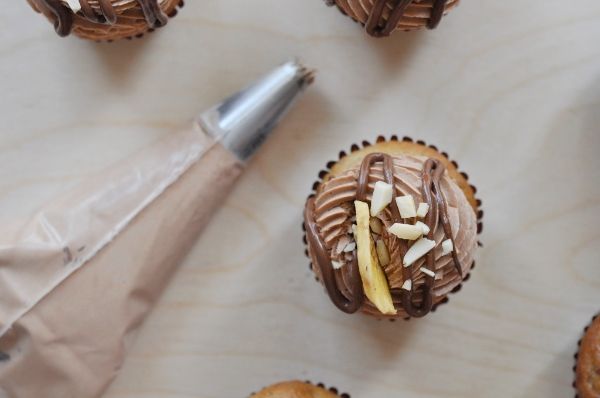 Sometimes, instead of making something fancy and adventurous, I need to go back to flavors I love and feel comfortable with. These times generally fall when my life is insane. (For example when we're navigating the home-stretch of embryo adoption and transfer.)
Born from the nervousness was this cupcake.  Moist (sorry) banana cupcakes with light, chocolatey Nutella frosting. What can possibly be better? Nothing, that's right. As far as decorating goes, I used
pastry bags
 and favorite
french star tip
. I used the same tip to decorate the
raspberry champagne cake
- so versatile!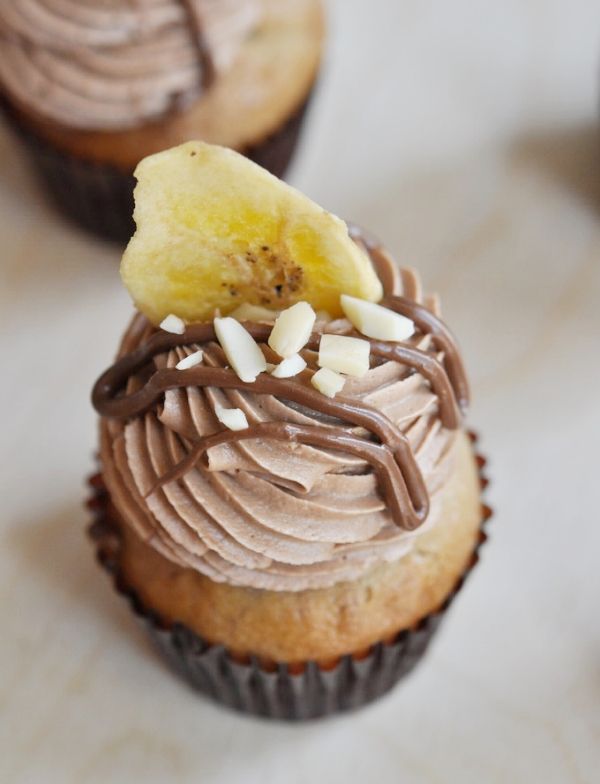 Banana nutella cupcakes
Author:
Prep time:
Cook time:
Total time:
A moist banana cupcake topped with the world's most delicious substance: Nutella.
Ingredients


For the cupcake


1 cup all-purpose flour


1/2 teaspoon baking powder


1/2 teaspoon baking soda


1/4 teaspoon fine salt


1 stick (4 ounces) butter, softened


1/2 cup granulated sugar


1/4 cup sour cream


1 1/2 teaspoons vanilla extract


2 large eggs


2 large ripe bananas, peeled and mashed


For the frosting


8 oz. of butter, room temperature


2-3 large spoonfulls of Nutella


1 tsp vanilla


2 cups confectioner's sugar


Instructions
For the cupcakes


Preheat the oven to 350 F. Line a 12-cup cupcake tin with paper cupcake liners.


In a medium bowl, sift together the flour, baking powder, baking soda and salt. Set aside.


In a large bowl, add the butter and granulated sugar. Beat with a handheld mixer or in your stand mixer until light and fluffy; about two minutes. Add the sour cream and vanilla. Slowly beat in the eggs, one at a time.


Incorporate the dry mixture and wet mixture together until thoroughly combined. Add the bananas and mix until just combined, being careful not to overmix.


Using an ice cream scoop, fill each cupcake liner three-quarters of the way full. Bake in the oven until the tops turn golden brown and a toothpick inserted in the middle of the cupcake comes out clean, 18 to 20 minutes. Remove the cupcakes from the oven to a wire rack and let cool before frosting.


For the frosting


Beat your butter until soft. Add the Nutella and vanilla extract and mix until combined.


Scrape down the sides of the bowl then add your confectioner's sugar. Mix on lowest setting until the powdered sugar has absorbed and you're sure it isn't going to fly everywhere. Then beat on medium-high speed for about a minute.


What flavors do you turn to when you need comfort?