I know.  I know you've had enough of funfetti.  Once the funfetti birthday pancakes fad passed, we were all like, "mkay, we're done now."  But you guys, I'M JUST NOT DONE OKAY?  These bars are the wonderful, perfect exception to the outdated fad.
I had a couple boxes of white cake mix in my freezer.  I don't remember buying them, but I do remember moving them into our new home.  (By the way, freezing them is a great way of preserving them past their 6-month shelf life)  But I was trying to fit frozen fruit into our impossibly tiny freezer and these just had to go.  I took them out of the freezer and had a pretty intense internal debate:
"Should I just throw these away?"
"What about the fact that I bothered to move them into this house a year ago?"
"Don't be ridiculous, Lizzy.  They cost a dollar, throw it away."
"You know, Lizzy, you can be really stuck up!"
"DON'T YOU START WITH ME - "
I'll skip to the end.  I decided to use them, and I'm glad I did because this. bar.  It is perfect for birthday parties, office parties, or Wednesday nights.  You can throw them together in under 20 minutes, which will make everyone's "ohmagahd, this is amazing" comments even more gratifying.
Let's get to this, shall we?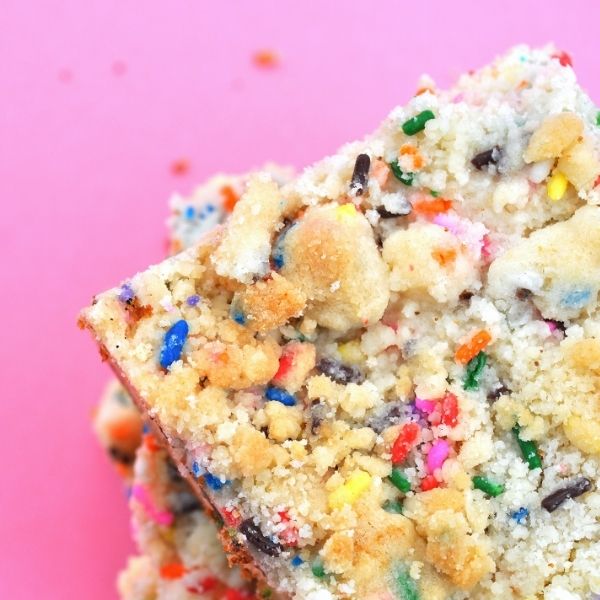 Funfetti Cheesecake Bars
Author:
Prep time:
Cook time:
Total time:
Easy and creative use of box cake mix!
Ingredients


for the crust


1 box white cake mix


10 oz container of rainbow sprinkles, divided


2 tbsp vegetable oil


1 egg


for the filling


16 oz cream cheese (2 8 oz containers)


1/2 cup sugar


2 eggs


1/2 tsp vanilla


for the streusel


1 box white cake mix


10 oz container of sprinkles, divided


1/2 cup butter


Instructions


preheat your oven to 350


for the crust


mix sprinkles into the cake mix, reserve 1/2 cup of the mix and set it aside. Mix in the 2 tablespoons of oil and egg, until it comes together. The mixture will be crumbly. Take the mixture, and press into the bottom of a well greased 9x13 pan. Bake for 6-8 minutes, until it becomes just a bit firmer.


for the filling


beat together cream cheese and sugar well, on high speed for about 2 minutes. Scrape the sides of your bowl very well to loosen any sugar that may have stuck. Add the eggs and vanilla and beat on medium-highspeed for another minute. Spread your filling over your slightly cooled crust evenly with an off-set spatula.


for the streusel


Mix cake mix with your sprinkles. Add in the extra 1/2 cup of mix. Using your fingers, work the 1/2 cup of butter into the cake mix until you don't see any more powdery ingredients in your bowl. The goal is to have moist looking crumbles throughout the bowl. Spread these evenly over the cheesecake filling.


Bake your bars for 35-45 minutes at 350 degrees. Mine took 35 minutes, but it completely depends on your oven. The goal is for it not to jiggle. It can move a bit when shaken, but it should be mostly firm.


Tip: Chill your bars for at least 2 hours.  If you're impatient, stick them in the freezer, but keep checking them to make sure they don't freeze through.
Another awesome thing about these bars is that they keep amazingly.  They only get BETTER.  Just keep them in the fridge in an airtight container and they can keep for up to a week!
I know I always say I want you to make my recipes, and I always mean it, but I really, really mean it this time.  These bars are out of control good.  Word?