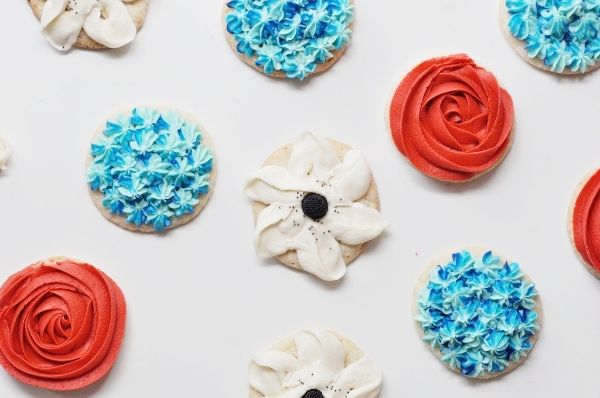 These flower cookies don't have to be red, white, and blue but I thought it was appropriate for 4th of July! It's tomorrow and I'm sure your head is full of ambitious patriotic dessert ideas (thanks a lot, Pinterest).  I don't know about you, but when I make dessert for a special occasion, I want to wow people with my creation. In this recipe, the flowers were the star, so I simply picked up a package of sugar cookie dough and baked those off quickly and focused on decorating.  If you're going to make these for 4th of July, I suggest you do the same.
I'm only going to cover two of these flower cookies today.  I'll briefly explain how I made the anemone flowers, but it really deserves a video, which will be coming next.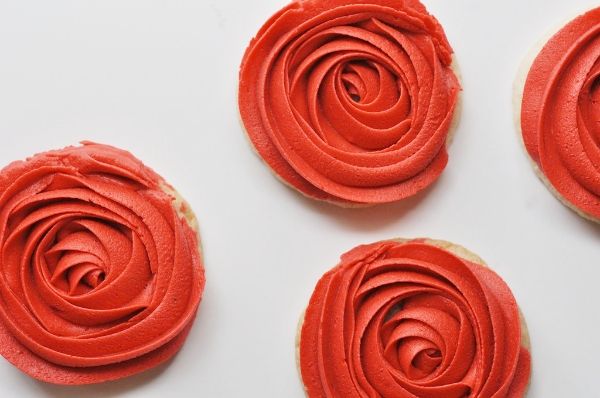 The buttercream roses! 
These were made using red frosting, a plastic 
icing bag
, and a medium
 open star tip
.  Holding the cookie in one hand, and the filled icing bag fitted with my open star tip in the other hand, I started at the center of the cookie and made a tight swirl with no gaps in a circle until I reached the edge of the cookie.  To finish the rose, I stopped pressure on the icing bag and dragged the tip a little bit further around the edge of the cookie.
Tip: 
Practice this a few times on the counter before you try it on a cookie.  You can scrape that frosting right up and put it back in your bag.  Practice as many times as you need to to get comfortable with the motion.
The buttercream hydrangeas! 
This one was easy as pie, you guys.  I used a small
closed star tip
, some blue frosting, and my
icing bag
. I fitted my icing bag with my closed star tip, then took a knife, dipped it in some blue food gel, and ran it up two sides of the bag in straight lines. After I had two streaks of food dye gel on my bag, I spooned my icing in (you don't need to be overly careful about it, it's meant to kind of swirl together).  With my cookie in one hand, and my icing bag fitted with the closed star tip in the other hand, I began making star shaped dollops.  I did this by squeezing for only a second and then pulling up and away from the cookie.  First cover the whole cookie in these little star dollops, then add a few on top of those in the middle to give it a slightly 3D look.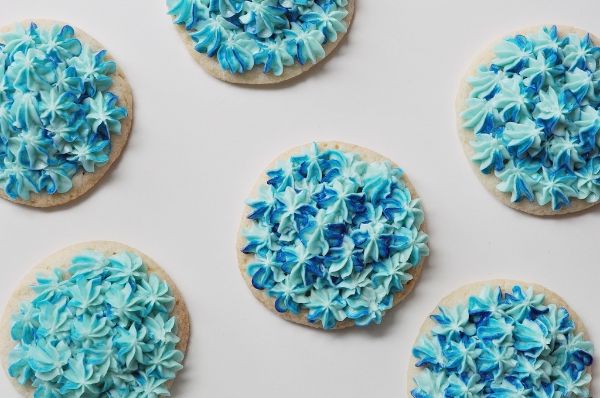 That's it, babes.  Easy peasy.  I'll be back with a video on anemones later this week.  If you want to make a white cookie for tomorrow, too, try making a white rose! Or use the hydrangea instructions, but with white frosting!
Happy happy 4th of July!