I pinned this picture over 6 years ago. The palette is my soul in colors! Spring is is a big opportunity to use as much color as your heart desires, but when I don't have a plan it usually all goes to hell in a poorly color-coordinated hand basket. I'm going to share how I made these colors.
For continuity purposes, I used Wilton food coloring. A lot of companies name their colors similarly, but pay attention to the shade! Now a lot of this is trial and error, but I have tried to give you proportions to help you achieve these shades. Add color very slowly! Once you add, it is very difficult to lighten!
Light blue: one half drop of sky blue using a toothpick
Bright yellow: golden yellow with a tiny touch of brown using a toothpick
Kelly green: a few drops of leaf green to make it very potent
Grey: a small toothpick tip of black (not too much!)
Warm off white: just the tiniest toothpick tip of brown
Turquoise: 3 parts sky blue to 1 part yellow
Navy blue: A lot (9-10 drops) of royal blue to 1 drop violet
Orange red: 3 parts red to 1 part orange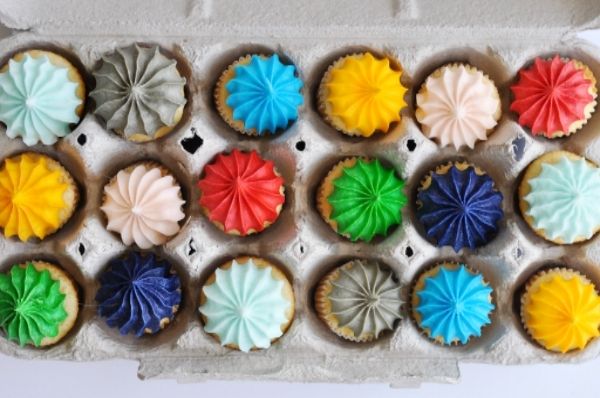 A veritable rainbow of frosting colors is at your fingertips, friends. I'll be back with more color posts! Happy Spring!