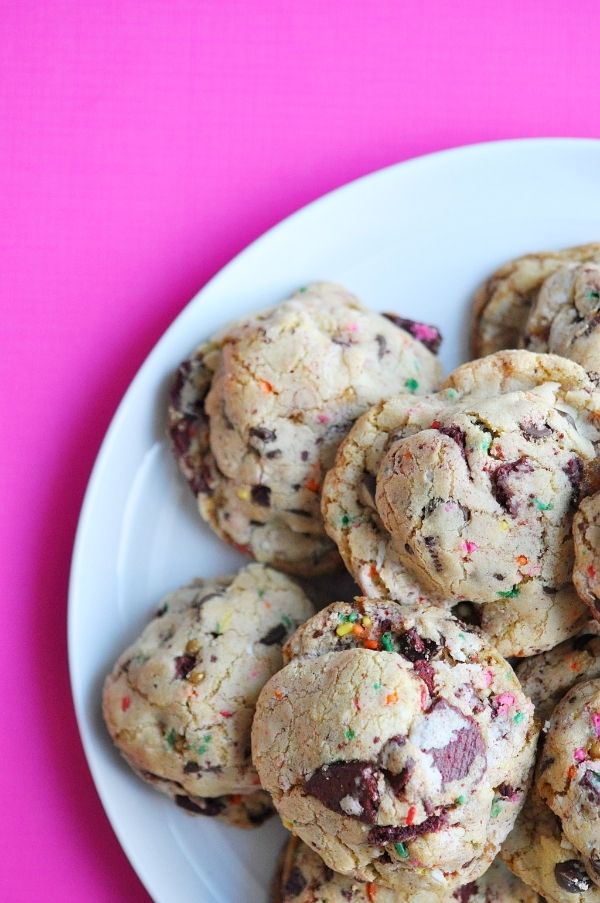 Sometimes you just feel like being over the top. Curling your hair and lashes to go the grocery store. Wearing neon colors to the gym on days you feel fat. I've never done any of these things, but they seem pretty over the top, right? Being over the top is my inspiration for these cookies.
Since Oreo is coming out with a mind-blowing new cookie every two minutes (see: O
reo Oration
) I have had a harder and harder time resisting. Finally, one day I was feeling weak and I walked past some Red Velvet Oreos in the store. It was bound to happen, so I just leaned into it. Why fight it?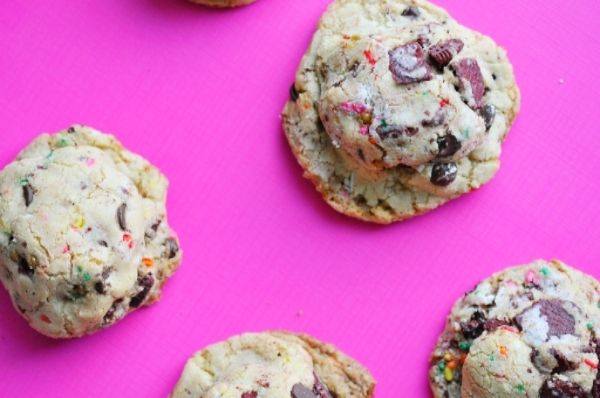 3/4 cup unsalted butter, softened (1 1/2 sticks)
3/4 cup light brown sugar, packed
1/4 cup granulated sugar
1 large egg
1 teaspoon vanilla extract
1 1/2 cups all-purpose flour
one 3.5-ounce packet instant vanilla pudding mix (not sugar-free and not 'cook & serve')
1 teaspoon baking soda
pinch salt, optional and to taste
20 Oreo cookies, coarsely chopped
1 cup semi-sweet chocolate chips
1/2 cup sprinkles
In a bowl of a stand mixer fitted with the paddle attachment combine the butter, sugars, egg, vanilla, and beat on medium-high speed until creamed and well combined, about 4 minutes. Make sure it's very light and fluffy!
Scrape down the sides of the bowl, and add the flour, pudding mix, baking soda, optional salt, and beat on low speed until just combined, about 1 minute.
Scrape down the sides of the bowl, and add the coarsely chopped Oreos, chocolate chips, sprinkles, and beat on low speed until just combined.
Using a large cookie scoop scoop two balls. Place your Oreo between them and flatten slightly, sealing up the sides.
Place mounds on a large plate or tray, cover with plasticwrap, and refrigerate for at least 2 hours, up to 5 days. Don't bake them without chilling them!
Preheat oven to 350F, line a baking sheet with a Silpat or spray with cooking spray. Place dough mounds on baking sheet, spaced at least 2 inches apart (I bake 8 cookies per sheet) and bake for about 11 minutes, or until edges have set and tops are just set, even if slightly undercooked, pale, and glossy in the center; don't over bake. They'll be a little soft! Allow cookies to cool on baking sheet for about 10 minutes before serving. Let them cool on the sheet.
Kept in an airtight container, these will stay good for a whole week! Pop them into the microwave for 12-15 seconds in the day following. A gooey cookie is always better!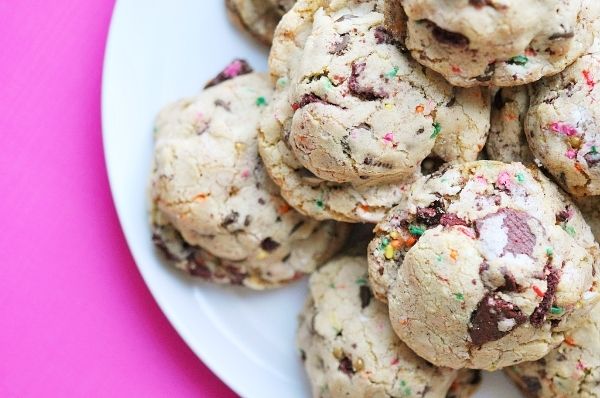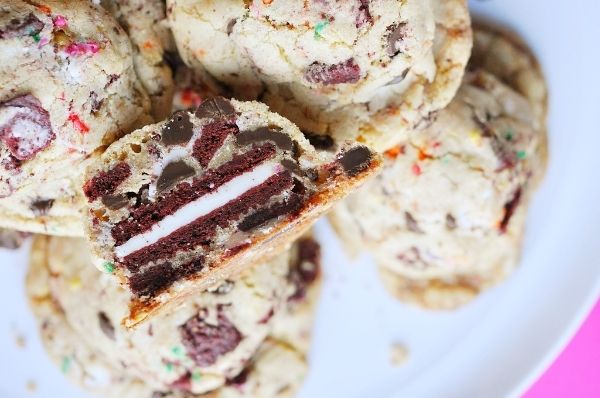 Make these, guys. Make them because they're every bit as amazing as you hope they'll be. When you make them, IG them and tag them #sugarplusbutter! I'll regram my fave.