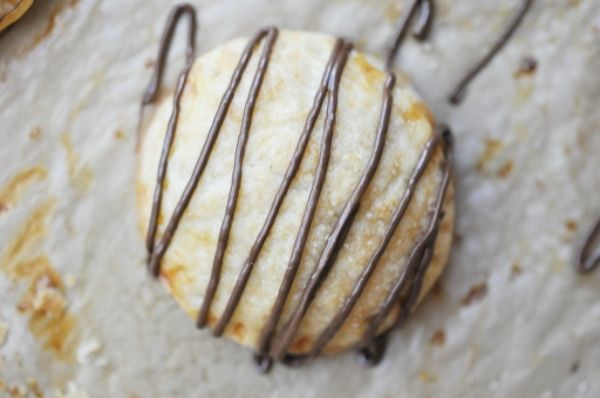 Pie crust, or pate brisee in fancy French, is a recipe that everyone should have in their back pocket. It is Baking 101. This is the recipe I use most often and it never disappoints. Eventually you'll memorize it and it'll become even easier to use!
I have a small preamble before we get started on this very simple recipe. There are a lot of opinions and emotions surrounding pie crust. Some people don't use shortening in their pie crust because they think it affects the integrity or flakiness of a crust. Sorry, but this is wrong. Shortening is also a fat that creates air pockets when the crust is baking, just like butter. It actually helps crust to keep the shape you form it into before baking. Those beautiful, intricate, leaf-lined pie crusts shall not be made in vain!
Some people also prefer to make their pie crust in the food processor. I happen to believe that an important part of cutting butter into flour is coating the flour in fat as well as breaking down the fat. I think the most effective way to thoroughly combine the flour and fat is to cut it in with your hands. This is not to say that making it in the food processor will result in bad dough. I just think doing it by hand is better.
INGREDIENTS
2 and 1/2 cups all-purpose flour
1 and 1/4 tsp salt
6 tbsp unsalted butter, cubed and chilled
3/4 cup vegetable shortening, pulled into pieces and chilled
1/2 cup ice water
DIRECTIONS
Mix the flour and salt together in a large bowl. Add the butter and shortening.
You can use a
pastry cutter
to cut the butter into your flour, until you get pea-sized chunks of butter, but I'm personally a fan of doing it with your hands. I make a "show me the money" motion, squeezing the butter and flour between my thumbs and other fingers. It takes a bit longer than using a pastry cutter or food processor, but there are fewer dishes (!) and doing things with my hands makes me feel cooler.
Measure 1/2 cup of water in a cup. Add ice. and stir it around. From that, measure 1/2 cup of water-- since the ice has melted a bit. Add 1 tablespoon at a time, and stir with a rubber spatula or wooden spoon after every tablespoon is added. Stop adding water when the dough forms large clumps.
Transfer the pie dough to a heavily floured work surface and sprinkle a bit on top, too. Fold the dough into itself until the flour is fully incorporated and form it into a ball. Divide dough in half. Flatten each half into 1-inch thick discs using your hands.
Wrap each tightly in plastic wrap. Refrigerate for at least 2 hours and no more than 5 days. You can also freeze these and keep them up to 3 months!
To print this recipe, click
here
!
Okay, guys, go forth and make pie crust. I know you can do it!