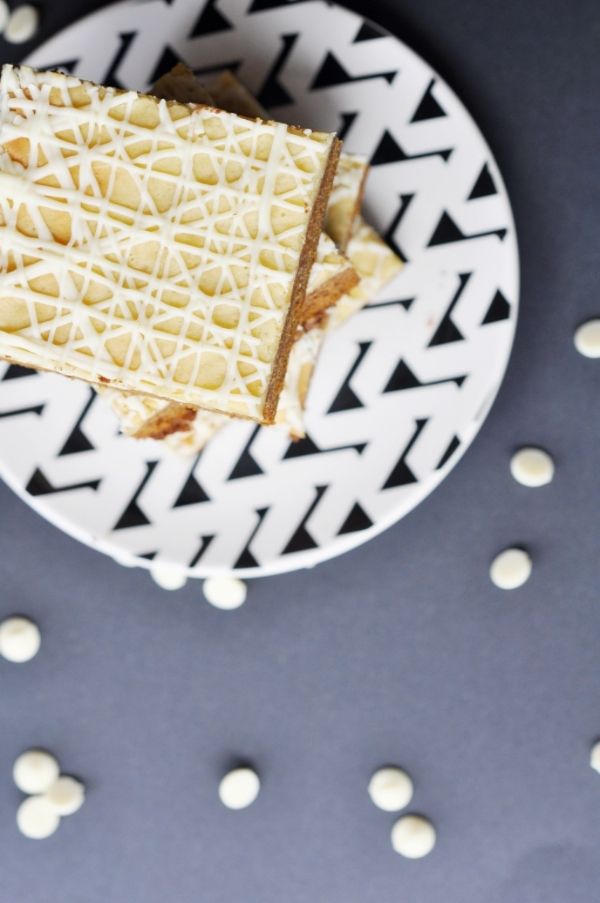 There are no two ways about it, I love cheesecake bars.  They're incredibly easy and versatile - you can make them any flavor in the world!  Change the crust or throw some ingredients into the filling and you've got a whole new dessert.  Spiced cookies are my favorite cookies, anything from ginger snaps to classic chewy gingerbread - I'm super in.  The combination of the two was a no brainer!
These are creamy and spicy and taste like Christmas morning.  They are everything.
INGREDIENTS
for the crust
2 cups all-purpose flour
2 teaspoons ground ginger
1 teaspoon ground cinnamon
1/2 teaspoon ground nutmeg
1/4 teaspoon ground cloves
1/4 teaspoon baking soda
1/4 teaspoon salt
1/2 cup (1 stick) unsalted butter, room temperature
1/3 cup packed dark-brown sugar
1/3 cup molasses
1 large egg
for the filling
16 ounces cream cheese (2 standard packages), softened to room temperature
1 large egg
1/4 cup granulated sugar
2 teaspoons vanilla extract
DIRECTIONS
for the crust
In a medium bowl, whisk together flour, spices, baking soda, and salt; set aside.
With an electric mixer, beat butter and brown sugar until smooth. Beat in molasses and egg.
With mixer on low, add dry ingredients; mix just until a dough forms.
Press it into the bottom of 9x13 pan and chill for 15 mins.
for the filling
Beat cream cheese, egg, sugar, and vanilla extract together with a hand or stand mixer until smooth and creamy, about 3 full minutes.
Pre bake crust for 8 mins at 325, then add the filling and Bake for 30-35 minutes, or until the cheesecake has set up and the edges are lightly browned.
Allow to cool for 30 minutes on the counter and then completely in the refrigerator for at least three hours. Lift the foil out of the pan and cut into squares.
To print this recipe,
CLICK HERE
.
So, you mega babes, if you need an amazing dessert for the upcoming slew of holiday parties, remember this little gem.  You'll be the belle of the poorly attended office party.