Guys, I'm in the middle of a serious pumpkin binge. Pumpkin cinnamon rolls, pumpkin hand pies, and now PUMPKIN STREUSEL COOKIES. It is a scientific fact that streusel makes everything better, so I grabbed my favorite pumpkin cookie recipe and tweaked it a bit. The flavor in these cookies is absolutely off the chain. For realz.
Traditional pumpkin pies are a thing of the past (Just kidding, I love you, pie.  Let's never fight.) so these cookies are a perfect (easier) substitute to the same old pie.  Hosting this year?  These are perfect with coffee.  Going to someone else's house?  They'll be grateful not to have to pull out a bunch of dessert plates.  Win/win.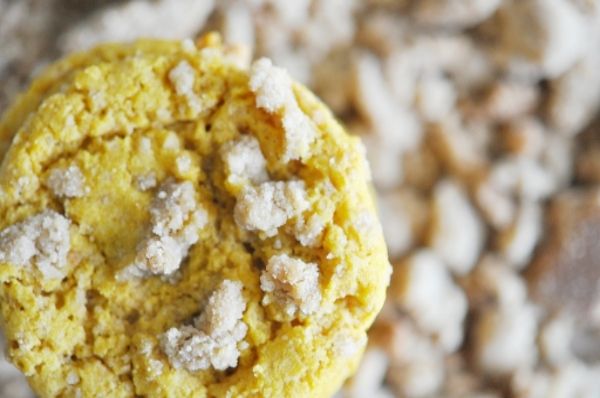 ingredients
for the cookies
1/2 cup unsalted butter
1/4 cup packed light or dark brown sugar
1 cup granulated sugar
1 tsp vanilla extract
6 tbsp pumpkin puree
1 and 1/2 cups all-purpose flour
1/4 tsp salt
1/4 tsp baking powder
1/4 tsp baking soda
1 tsp ground cinnamon
1 tsp pumpkin pie spice
for the streusel
1/4 cup butter, softened
1/4 cup sugar
1/4 cup packed brown sugar
1/3 cup flour
1/2 tsp cinnamon
1/4 tsp nutmeg
directions
for the cookie dough
Preheat the oven to 350 degrees.
In a medium bowl, melt your butter in the microwave. Once it's completely melted and hot, add the brown sugar, granulated sugar and whisk until no lumps remain. Add the vanilla and pumpkin and whisk together.
In a separate bowl, whisk together all the dry ingredients. Add it to your bowl with the butter and sugar and mix until combined.
Put the bowl in the fridge to chill while you make your streusel.
for the streusel
Whisk together all your dry ingredients (sugar-nutmeg). With your hands, break your butter down into small pieces and cut the butter into the dry ingredients until it looks like moist meal. Spread out on a baking sheet and bake for 9 minutes. Pour into a bowl once cool enough to touch.
to put the cookies together
Scoop the dough with whatever size scoop you would like and roll each dough ball in the streusel. You'll need to press the streusel into the dough balls a bit to make it stick. Place on a cookie sheet two inches apart and bake for 8-9 minutes in your preheated oven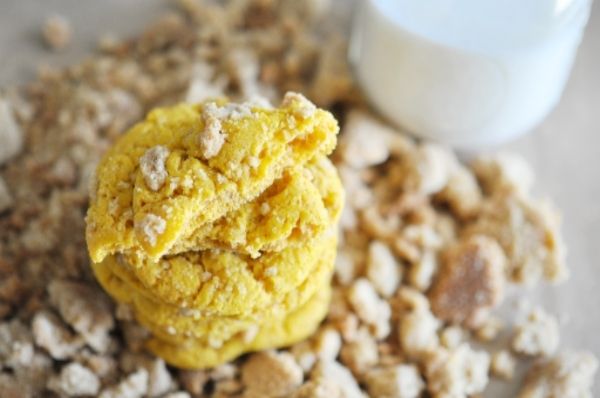 I dare you to make these and not eat all of them immediately.