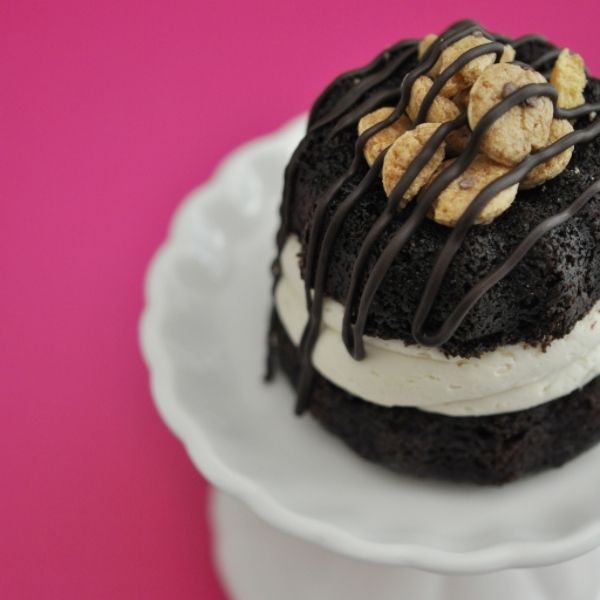 So, you're going to learn something about me today. I don't have much of a sweet tooth, I think I've mentioned that. The Most obvious exception to that, though, is my deep, abiding love of cereal. Not the bullshit healthy ones made of twigs. I mean the sugariest, most nutritionally void types. Among my favorites is Cookie Crisp (or let's be honest, any cheap knock off...it's not rocket science to make this stuff). So, when I decided I was going to split open soft chocolate bundt cakes and fill them with fluffy buttercream, I figured some cereal wouldn't hurt either. We're already getting fat, why not lean into it.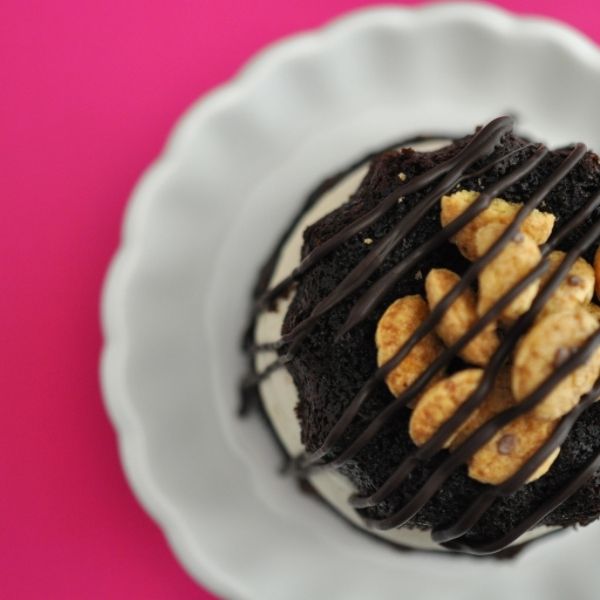 for the cakes
1 or 2 mini bundt pans (if you only have one, you'll just bake them one tray at a time)
***You can usually thrift these for just a couple dollars. Don't buy one full priced until you've tried to bargain shop.
1 3/4 cups all-purpose flour, plus more for pans
1 cup granulated sugar
1 cup packed brown sugar
3/4 cups good cocoa powder
2 teaspoons baking soda
1 teaspoon baking powder
1 teaspoon kosher salt
1 cup buttermilk
1/2 cup vegetable oil
2 extra-large eggs, room temperature
1 teaspoon pure vanilla extract
1 cup freshly brewed hot coffee
for the cakes
Grease and flour the crap out of your pans (or spray with baking spray).
Sift the flour, sugar, cocoa, baking soda, baking powder, and salt into the bowl of an electric mixer fitted with a paddle attachment and mix on low speed until combined.
In another bowl, combine the buttermilk, oil, eggs, and vanilla.
With the mixer on low speed, slowly add the wet ingredients to the dry until fully combined. Scrape the entire bowl with a rubber spatula. With mixer still on low, add the coffee and stir until just combined.
Pour the batter into the prepared mini bundt pans (each well should be about 3/4 full) and bake for 25-30 minutes, until a cake tester comes out clean. Cool in the pans for 30 minutes (I mean it), then turn them out onto a cooling rack and cool completely.
I used my standard vanilla buttercream recipe. You can find it
here!
As far as cereal, I just stuffed some into the buttercream and piled some on top. Then I melted some milk chocolate chips and drizzled it on top to add to the drama!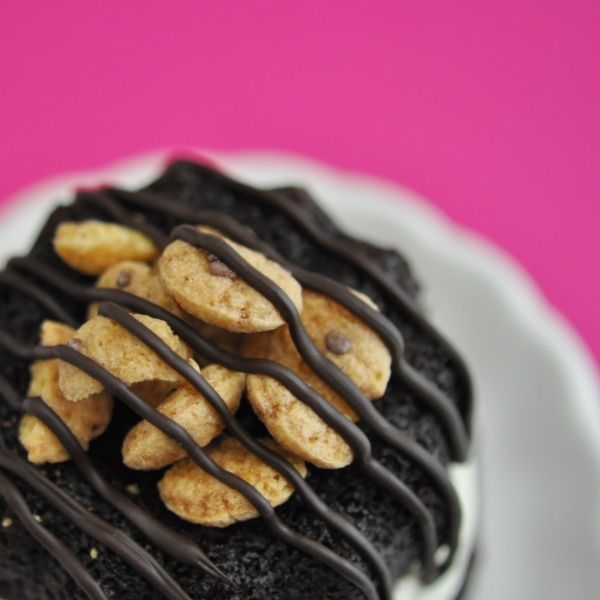 Grab your favorite cereal, make some cakes, and stuff them full of sugar! Life is short.