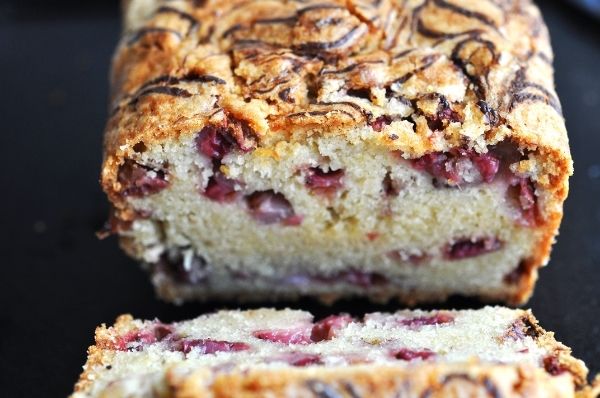 Saveur posted a strawberry swirl bread recipe and I stumbled across it a week ago. Well, obviously I had to make it (duh). Nothing smells as good as fruit baking in the oven. Seriously nothing. Look it up. One problem though, I didn't have strawberry jam, but I
did
have chocolate ganache from the
coffee cream stuffed doughnuts recipe
. My path was clear.
adapted from saveur mag
INGREDIENTS
Unsalted butter, for greasing pans
3 cups flour, plus more for dusting
1 tsp. baking powder
1 tsp. ground cinnamon
½ tsp. kosher salt
2 cups sugar
1¼ cups canola oil
4 eggs
4 cups roughly chopped strawberries
1/4 cup ganache from
this recipe
DIRECTIONS
1. Heat oven to 350. Grease two loaf pans with butter/shortening and dust with flour; set aside. Whisk flour, baking powder, cinnamon, and salt in a large bowl; set aside.
2. In a separate bowl, whisk sugar, oil, and eggs. Pour wet ingredients over dry ingredients and whisk until just combined. Stir in strawberries and pour batter into prepared pans. Put your ganache into a squeeze bottle or a Ziploc with a very small hole cut in the corner and squeeze it out in a diagonal motion all the way across the loaves. Take a toothpick and drag it in asymmetrical swirls until you get the desired look.
If you take the toothpick out for any reason, wipe it off before putting it back into the batter. This will keep it from looking muddled.
Bake until golden brown and a toothpick inserted in the middle of the loaves comes out clean, about 1 hour and 30 minutes. Once the pan can be handled, turn the loaves out onto a wire rack. Let them cool completely before slicing, at least a half hour outside of the pan. q
Strawberries are just starting to be ripe in the grocery store, so go grab some and stick it in some sweet bread. As if I had to tell you.