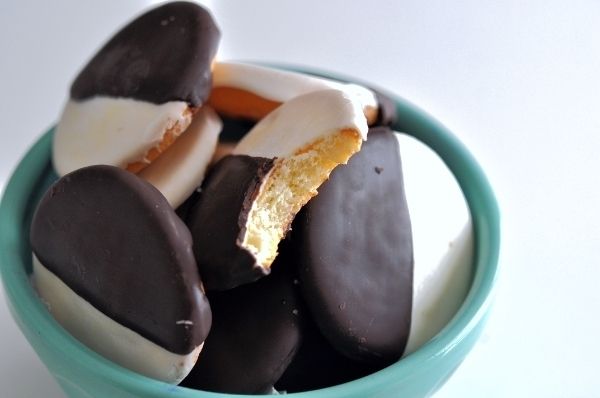 Black and white cookies are WAY important to me. I don't know if you guys know this, but I lived in New York for a number of years. Most of my best friends (see: my heart) live there so I'm still really attached to it. But even before New York was a glimmer in my mind, I was eating black and white cookies in Miami, where I was raised.
I tried three recipes before I decided on this one. You'd be surprised what some people try to pass off as classic black and white cookies. Here's how you know the real thing: there is a hint of lemon in the white icing. The cookie is soft, browned on the bottom, and slightly domed. The heavens open up when you eat it.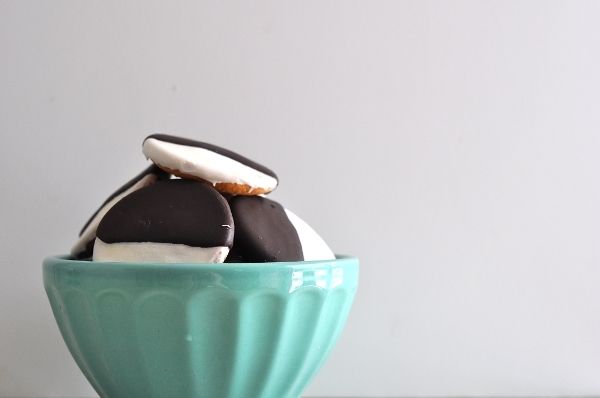 INGREDIENTS
for the cookies
1 1/4 cups all-purpose flour
1/2 teaspoon baking soda
1/2 teaspoon salt
1/3 cup well-shaken buttermilk
1/2 teaspoon vanilla
1/3 cup (5 1/3 tablespoons) unsalted butter, softened
1/2 cup granulated sugar
1 large egg
for the icing
1 1/2 cups confectioners sugar
1 tablespoon light corn syrup
2 teaspoons fresh lemon juice
1/4 teaspoon vanilla
1 to 2 tablespoons water
1/4 cup unsweetened Dutch-process cocoa powder
DIRECTIONS
for the cookies
Preheat oven to 350.
Whisk together flour, baking soda, and salt in a bowl. Stir together buttermilk and vanilla in a cup.
Beat together butter and sugar in a large bowl with an electric mixer until pale and fluffy, about 3 minutes, then add egg, beating until combined well. Mix in flour mixture and buttermilk mixture alternately in batches at low speed (scraping down side of bowl occasionally), beginning and ending with flour mixture. Mix until smooth.
Spoon 1/4 cups of batter about 2 inches apart onto a buttered/silpat lined large baking sheet. Bake in middle of oven until tops are puffed and pale golden, and cookies spring back when touched, 15 to 17 minutes. Transfer to a rack and cool, about 5 minutes.
to make the icing
Stir together confectioners sugar, corn syrup, lemon juice, vanilla, and 1 tablespoon water in a small bowl until smooth. Transfer a little less than half of icing to another bowl and stir in cocoa, adding more water, 1/2 teaspoon at a time, to thin to same consistency as white icing.
to ice the cookies
Dip the flats of the cookies into the vanilla icing and allow to sit for a few minutes (while you're icing the remainder, this should give it enough time to set up, or become hard). Take your cookies and line them up in long rows. Slowly pour your chocolate frosting over the cookies in a sweeping motion so that the chocolate icing covers half of the cookies.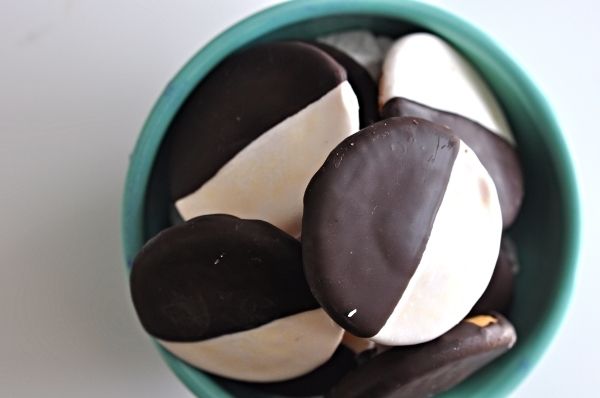 So go show your friends how legit you are. Make these things.