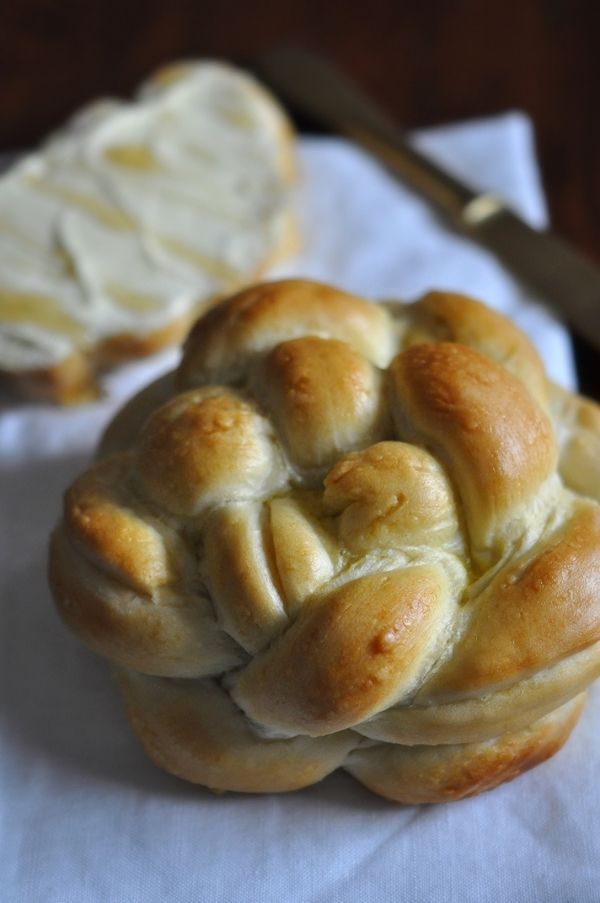 I grew up eating a looooot of challah. It was pretty much the best part of Hebrew school. This is the first time I've tried making it at home, though and it's super easy! So let's do this, shall we?
This recipe makes either one gigantic challah loaf, big enough to feed 8-10, or four 6" round loaves. An argument pro gigantic loaf is that challah french toast is the best french toast (fact).
INGREDIENTS
1 1/4 c water
1 tbsp active dry yeast
3 tbsp honey
3 eggs + 1 egg for wash
1/2 c vegetable oil
6 c bread flour
2 tsp salt
DIRECTIONS
Place very warm water from the sink in a mixing bowl. Add yeast and honey, mixing lightly. Let is sit for about 10 minutes, until it is foamy and clearly active.
Add 3 of your eggs and the honey and mix with a spoon. Add all the flour and salt to the liquid mixture and mix with a dough hook for about 5 minutes. You'll know it's done when it doesn't stick to the hook and it can be handled easily.
If you don't have a stand mixer, you'll have to knead the dough by hand. Do this by flouring your work surface and repeatedly pushing the heel of your hands into the dough and folding it back over.
Place your ball of dough into a well oiled bowl, cover it tightly with plastic wrap and place in your microwave. Let the dough rise for at least an hour. I like to wait an hour and a half.
Once it's risen, turn your dough out onto a lightly flour work surface. Cut the dough into four equal portions. If you're making on large loaf, roll each of the four portions into snakes. If you're making four small loaves, cut each of those four portions into four more, making 16 in total. Roll each portion into a snake that is 1/4" thick for a small loaf and 1/2" for a large loaf.
I like to egg wash the snakes before braiding them. Mix your egg, a pinch of salt, and a little water with a fork in a small bowl. I used my fingers to spread the egg wash onto the dough, but you can also use a pastry brush.
To braid your bread, watch the video in this post - don't worry it's easy!
Place your loaves on a greased and aluminum foil-lined baking sheet and allow them to rise for at least 20 minutes. This is a good time to preheat your oven to 375.
Bake the loaves at 375 for 10 minutes, then turn the temperature down to 350. Bake for another 10-12 minutes until golden brown.
So get in touch with your inner Jew and make some fluffy, eggy bread for yourself. As it says in the Torah, "Challah is the best ever, Amen."