A few days ago, it was apparently National Ice Cream Day. The only objection I have is that you don't need a holiday, you should be eating that shiz every day. A bowl of ice cream a day keeps the doctor away. Or attractive suitors. I always mix those two up.
This is a super easy ice cream cake that anyone with a
spring form pan
can make. If given a choice, I always opt for chocolate on chocolate on chocolate, which is exactly what I've done here. Here's how I made it.
INGREDIENTS
10 tablespoons unsalted butter
1 1/4 cups granulated sugar
3/4 cup plus 2 tablespoons unsweetened cocoa powder, a little extra for dusting
1/4 rounded teaspoon Kosher salt
1 teaspoon vanilla extract
2 large eggs, straight out of the fridge cold
1/2 cup all-purpose flour
8 or 9 inch spring form pan
DIRECTIONS
Position an oven rack in the lower third of the oven and heat to 325 degrees F. Grease a 8 or 9 inch round (I used 8) and dust with cocoa powder.
Combine butter, sugar, cocoa powder and the salt in a medium, microwave safe bowl. Microwave on medium for 20 seconds. Give it a stir to make sure it's smooth. I had to microwave it for another 10 seconds to get it smooth.
Remove the bowl from heat and set aside for 3 to 5 minutes until it is only warm, not hot.
Using a stand mixer, stir in vanilla. Then add eggs one at a time, beating well after each one.
When the batter looks thick, shiny and well blended, add the flour and mix on medium-low until fully incorporated, then beat on medium high for 15-20 seconds. Spread evenly in your cake pan.
Bake 20 to 25 minutes or until a toothpick can be inserted into the center and come out clean. If after 25 minutes the toothpick doesn't come out clean, keep checking at 5 minute intervals until it does.
Cool completely on a cooling rack. While you're doing this, take your ice cream out of the freezer. You want it to be malleable but not liquid. Scoop it out onto the cooled brownie and smooth the top as best you can. Leave the cake pan in the freezer for at least 3 hours.
Once it is frozen completely, go about making
this chocolate ganache
(best ever). Let the ganache cool completely (you can speed this up by sticking it in the refrigerator and stirring it every few minutes), remove the ice cream cake from your spring form pan and pour the ganache over the top.
Apparently, I recommend you do it haphazardly without any consideration of how it looks. Then add some spranks and serve it immediately!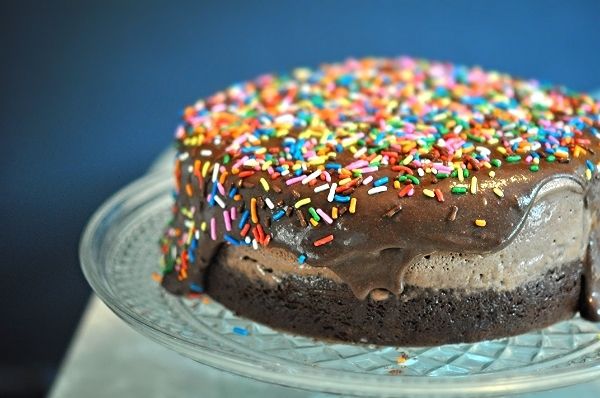 So go show ice cream that you love it. Whether it's grabbing some froyo with your family, or going all out and making this circular dream boat here.