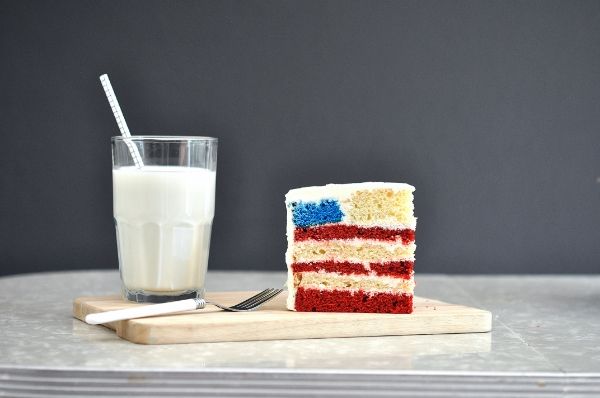 Happy almost Fourth of July! Fireworks are downright dangerous here in Colorado, but we'll be cooking out, wearing shorts, and lovin' on good old America all day tomorrow. If you're supposed to be going to a BBQ and bringing something I really suggest this. It is not all that difficult, but it looks like it is. You'll be the hero of the party.
I made this cake because someone challenged me to cake off the other day, with
this Food52 recipe
. It wasn't difficult, but you have to follow the directions very closely. As a side note, I used my own frosting recipe instead of the one posted by Food52, because I know it's a crowd pleaser. Why fix it if it ain't broke, ya know? So here is my frosting recipe:
INGREDIENTS
1 1/2 cups heavy cream, divided
1 stick salted butter, softened to room temperature
1 1/2 cups powdered sugar
1 1/2 tsp vanilla extract
DIRECTIONS
Place a metal mixing bowl (not a stand mixer bowl, unless you have two), plus your mixer whisk attachment in the freezer for about 10 minutes. Remove from freezer and add 1 1/4 cups heavy cream. Beat on high until a stiff whipped cream forms, about a minute.
Set whipped cream in the fridge while you prepare the rest of the frosting.
In the bowl of your mixer, beat butter, vanilla, and 1/4 cup heavy cream until smooth and combined. Reduce the speed to medium low and add the powdered sugar in small parts until completely mixed. Increase mixer speed to high and beat until light and fluffy.
Remove whipped cream from fridge and using a rubber spatula, gently fold the buttercream into the whipped cream until it's fully combined and there are no streaks.
Tip:
Before cutting this cake, chill it in the freezer for about 15 minutes. That way when you slice it, you'll have a pretty good chance of getting a pretty piece!
I hope you all have fun tomorrow and don't forget to think a little about our awesome country. Then eat hot dogs.