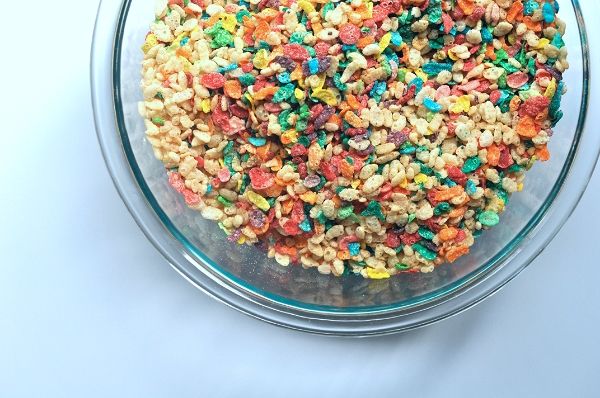 We all have those foods we eat when we need comfort and just don't give a crap about our figure. My list of those foods is quite long, including white cheddar mac and cheese, Poptarts of any flavor, guacamole, and, you guessed it, Fruity Pebbles. It has been my favorite cereal since I understood the concept of cereal and that's a love affair no fading metabolism can extinguish.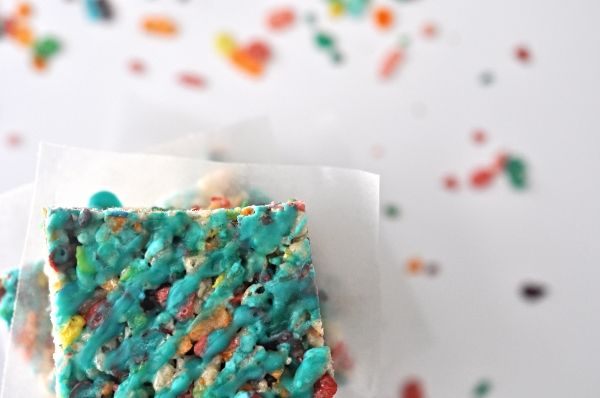 We all know and love marshmallow treats (also known as Rice Krispy Treats when you're using that cereal). They are easy and gooey and amazing. What could be better? Not much. I took generic brand rice puffs, and mixed them with fruit pebbles and this was the result. Guys, I'm not kidding, these things are the bomb.com.
INGREDIENTS
time: it takes about 30 minutes from start to finish
serving: one 9x13 pan of krispies
1/4 cup butter
1 bag of mini marshmallows (about 4 cups)
2 cups of puffed rice cereal
3 cups of Fruity Pebbles
DIRECTIONS
In a medium saucepan over medium heat, melt the butter. One the butter is melted add the marshmallows and stir constantly until smooth and melted. It takes about 3-4 minutes.
Mix together your cereals in a large bowl, pour the melted mixture over the cereal and mix until totally combined. Stir gently so you don't break all the cereal.
Grease a 9x13 inch pan and dump the mixture into the pan. Press flat and even all the way into the corners of the pan. Let the pan rest in the freezer for 10-12 minutes and you're done!
I also added a colored glaze on top to make it more festive. That was 1 1/2 cups confectioners sugar, 2 1/2 tbsp milk, 1 tsp vanilla, 1 tbsp melted butter. I added blue dye, but you can use whatever color you want!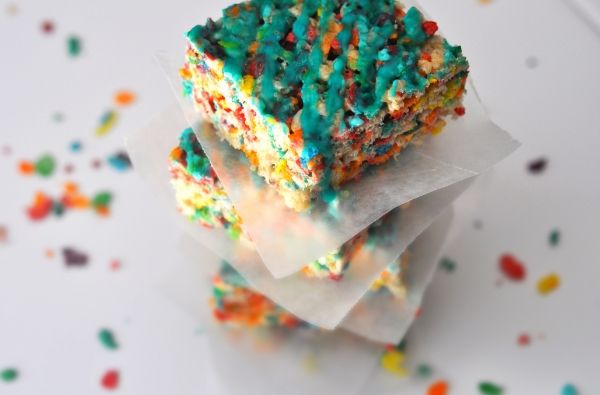 Forgot to make something for a party? You can throw these together in almost no time. These are a hit 100% of the time. It's science.