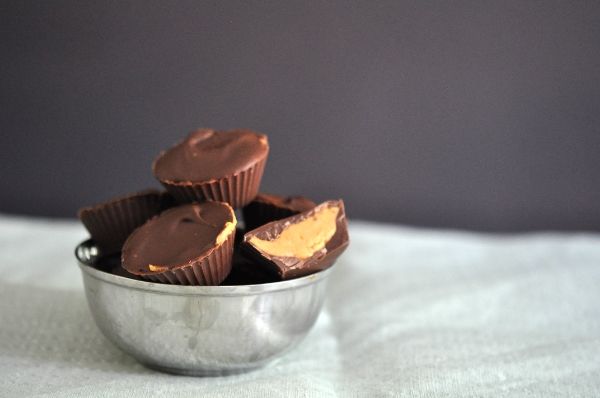 My Dad's favorite candy in the world is a good peanut butter cup so it was pretty obvious what I had to make in celebration of Father's Day today.  But before I delve into the recipe, I'd like to tell you a little about the man.
My Dad always has a joke on hand (they've admittedly gotten more inappropriate as my brother and I have grown up), he can change the mood of room within a minute of stepping into it, and he's honestly one of the smartest guys I know.  We get on each others' nerves because we're so similar, but for the same reason, I don't think I've ever been afraid to tell him something.   I know that I'll never endure any judgement from him and that's worth all of the annoying arguments in the world.  Just barely, but still worth it.
I rib him a bit because I know he can take it, but it would be an understatement to say that he's been the most important man in my world for 27 years.  He's happily passing the title on to Ben, though.  I think he is ready to retire.  (It's tiring, believe you me)
Now onto to this 4 ingredient recipe.  Yup 4 ingredients.  And no bake time.  It's so easy, it's almost cheating.
INGREDIENTS
24 mini cupcake liners (I used
these silicone ones
, but paper will work too.)
12 ounce package of milk chocolate chips
1 cup peanut butter
1/2 cup powdered sugar
1/4 teaspoon salt
DIRECTIONS
Put the chocolate chips in a glass bowl and microwave them on half power for 2 minutes.  This should melt them completely.  To be sure, stir with a spoon and make sure the chocolate is smooth.  After it's completely melted, let it sit for a minute or so.
Take your liners or silicone baking cups and spoon about half a tablespoon into it.  Spread the chocolate up the sides of the cup, coating the entire liner.  Place in a mini cupcake pan and when all of them are coated, place in the freezer for 10 minutes until completely hardened.
While your chocolate hardens, in a medium bowl mix together the peanut butter, confectioners sugar, and salt until thoroughly combined.
Once the chocolate has hardened, place about half a table spoon of the peanut butter mixture in the middle of each cup.  Then take a spoonful of the remaining melted chocolate and spread it on top of the peanut butter, as smoothly as you can.  Then put the cups back in the pan into the freezer and let them harden for about 10-15 minutes.  Then give them to your Dad.