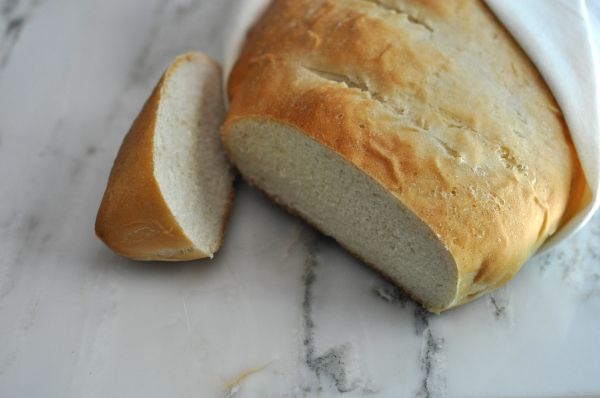 Is there anything better than a delicious sandwich?  The answer is no, if you were still thinking about it.  We've been trying to do and make more things at home since our budget is way more limited lately, and making a couple of loaves of bread a week seemed like a good place to start.
You'll see that this recipe has rendered duck fat in it.  I try to avoid meat altogether, but we had leftover schmaltz (duck fat) from Thanksgiving that was otherwise just going to sit in the fridge.  If you don't like the idea of duck fat, or have nowhere to buy it, you can use butter or standard lard.  Even shortening if that's your jam!
INGREDIENTS
2 (.25 ounce) packages active dry yeast
3 tablespoons white sugar
2 1/2 cups warm water
3 tablespoons duck fat, lard, or butter, softened
1 tablespoon salt
6 1/2 cups bread flour
DIRECTIONS
makes 2 loaves, either in a 9x5 bread pan, or free form, as seen in my pictures
In a large bowl, with a dough hook attachment, dissolve yeast and sugar in warm water. Stir in duck fat, salt and two cups of the flour. Stir in the remaining flour, 1/2 cup at a time, beating well after each addition. When the dough has pulled together, turn it out onto a lightly floured surface and knead until smooth and elastic, about 8 minutes.  The longer the better!
Lightly oil a large bowl, place the dough in the bowl and turn to coat with oil. Cover with a damp dish rag and let rise in your microwave until doubled in volume, about 1 hour.
Deflate the dough (I like to punch it right in the middle, just cause it's satisfying to punch things sometimes) and turn it out onto a lightly floured surface. Divide the dough into two equal pieces with a knife and leave them in their half circle shape, unless you're putting them in a greased 9x5 to bake. If you're making free form loaves, place the loaves on a baking sheet and cover the loaves with a damp cloth and let rise until doubled in volume, about 40 minutes.
Bake at 375 degrees F for about 30-35 minutes or until the top is golden brown and the loaf sounds hollow when tapped.
Important: Wait until the bread is 100% cool before cutting to get really clean slices!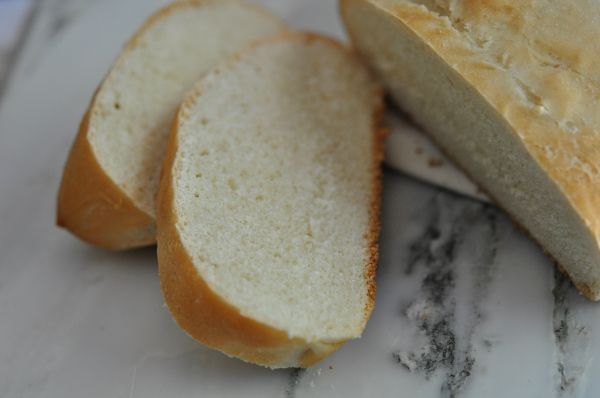 So go make your own bread, it is so satisfying.