I have been prohibited from playing my "She and Him holiday radio" on Pandora, I have been chastised for putting my Christmas tree up. But now,
no one can stop me.
Thanksgiving is over which means I can spread my Christmas cheer far and wide!
I'm starting with these. My coworker had a birthday this week and while performing a practice run on her red velvet cake, I made these donuts. I remembered halfway through that I have awesome Christmas sprinkles from the dollar bin at Target (which means they probably have led in them or something). I slathered some easy cream cheese frosting on these things and went. To. Town.
Now I've spoken before about honesty and the donut pan. A lot of recipes will show these perfectly round donuts, covered strategically by frosting. I'm going to be super real with you: Above is what they looked like when they came out of the pan. Not perfect, as you can see. But that's where this frosting comes in. I skipped the hassle of frosting it around the hole and covered it right up.
Read over this recipe once before starting. It is not an average cake recipe and it is easy to skip a step.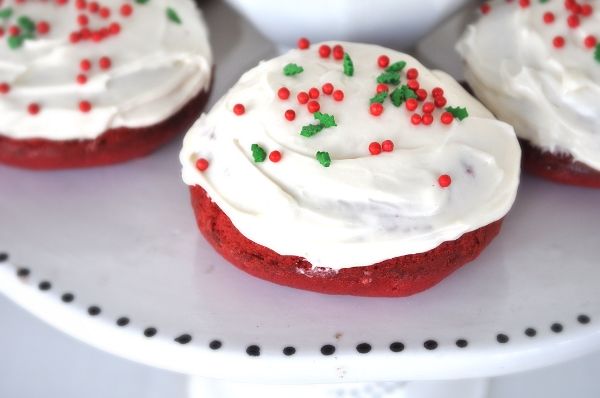 INGREDIENTS
for the donuts
1/2 cup butter
1 1/2 cups sugar
2 1/2 cups flour
1 teaspoon salt
4 Tablespoons Dutch Cocoa
3 large eggs (room temperature)
2 teaspoons vanilla extract
1 cup buttermilk (I use dry butter milk)
2 Tablespoons Americolor super-red coloring
1 teaspoon vinegar
1 teaspoon baking soda
DIRECTIONS
for the donuts
In a stand mixer beat butter, add sugar and cream together until smooth.add gs one at a time, mixing in after each addition. Scrape sides add vanilla and mix until incorporated.
Mix flour cocoa and salt together, in a separate bowl mix buttermilk with food coloring. Then add buttermilk mixture along alternating with flour mixture to butter and sugar. Alternating in three additions. Begin and end with flour mixture.
Mix vinegar and baking soda let it fizz then add to batter bowl and blend in.
Some people use a piping bag to put batter into the pans. I suggest this method, but you can also use a ziplock with the corner cut out, or try your chances with a spoon. This will not effect the taste or consistency.
for the frosting
I always go with
this recipe
.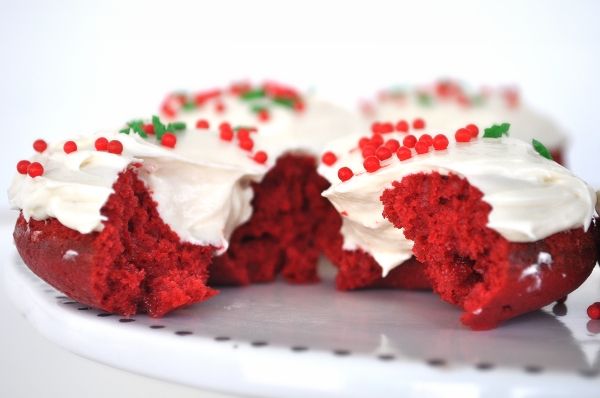 So let your Christmas spirit shine through cause according to the calendar, no one can stop you.