We've all seen the piñata cakes on Pinterest. I knew I wanted to stuff my cake full of candy, but I also wanted multiple layers, sprinkles, and pretty icing. This is what resulted.
This year was my 27th birthday. The number was no big deal, but the cake had to be. I almost buckled under the pressure. To be completely honest, it took a fair bit of luck to pull this off, but I'm going to share as much of what I learned during the process as I can so you, too, can make a cake filled with candy. Check out the
video of me cutting the first slice
.
You can do this. I believe in you.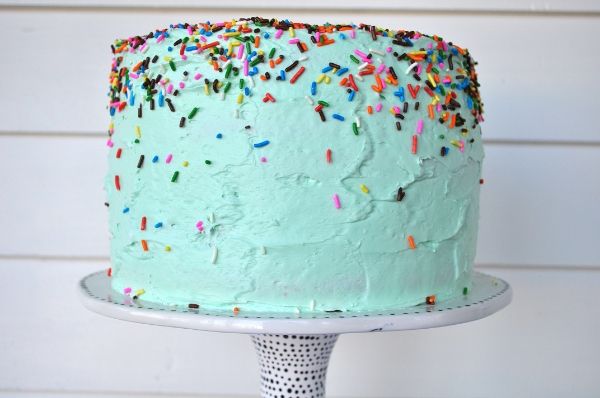 INGREDIENTS
for two layers (I made 6)
4 egg whites from large eggs
1 cup milk, divided
1 1/2 teaspoon vanilla
3 cups cake flour
1 1/2 cups white sugar
4 teaspoons baking powder
1/2 teaspoon salt
4 tablespoons unsalted butter, very soft but not warm
8 tablespoons shortening
2/3 cup multi-colored jimmies
for the frosting (will cover two layers)
2 cups confectioners' sugar
2 tablespoons butter, softened
2 tablespoons milk
1/2 teaspoon vanilla extract
DIRECTIONS
Heat the oven to 350°F. Grease and flour two 9-inch round cake pans. In a small bowl mix the egg whites, 1/4 cup milk,and the vanilla extract.
In the bowl of a stand mixer mix the cake flour, sugar, baking powder, and salt. Mix until evenly combined. Add the butter and shortening and mix on medium speed until well-combined with the flour mixture (about 30 seconds). Pour in the remaining 3/4 cup milk and continue mixing on medium speed for about 3 minutes. Scrape down the sides of the bowl twice during mixing.
Pour the egg white mixture is 3 increments, mixing for 30 seconds after each addition. Mix for one more minute after all of the egg white has been added. Fold in the multi-colored jimmies.
Divide the batter evenly between the prepared cake pans and bake for 25 to 30 minutes or until the middle of the cake springs back when you lightly poke it with your finger.
Remove the layers from the oven and place the pans on baking racks to cool for about 10 minutes. This is really important. To get the cake out of the pans, there are many techniques, but I grab the pans (after loosening the cake with a spatula) and turn it into my flat hand, then flip them (right side up) onto the cooling rack. Some people use a plater instead of their hand, that will work, too.
for the frosting
Beat all of the ingredients until completely smooth. To make it this aqua blue color, use 3 drops of blue gel coloring, and 1 drop of green and mix until the color is solid. If your batch is doubled or tripled, you can increase the number of drops but make sure it's a 3 to 1 ratio.
Assembly
Place one layer on your cake stand/plate with a tiny dab of frosting here the center of the cake will be. (This keeps it from sliding around when you're assembling it and frosting it.) Using a ziplock bag with the corner cut out (or a piping bag if you're fancy) to pipe a single line of frosting around the edge of the layer (about 1/8" from the edge). Place layer number two evenly in the middle and repeat the piping procedure. Then take a large sharp knife (not serrated!) and cut a 5" wide circle in the middle and take out what you have cut. This doesn't have to be an exact science. Repeat with however many layers you make. All of them should have holes in the middle except for the top and bottom layers. Then pick your favorite candy and fill it 3/4 full. Place for final layer on top.
To make a cake really pretty, I do a crumb coat. You'll use just about half a cup of frosting and spread a very thin, but very straight and flat layer all around the cake. Then you chill it for at least an hour. Then when you go to frost it for real, none of the crumbs will make it into your frosting. It'll also give you a more solid and workable surface so you can get your frosting just right!
After that I just dumped a TON of sprinkles on top. To get the cascading look on the side I literally threw tiny handfuls of sprinkles at the top of the side edge and a few strays landed further down.
So make up an occasion for this cake. Make friends with the next person in your office who has a birthday. Because after having a cake filled with candy, I'm telling you it's a life experience you need. Six year-old you demands it.
Ta, pretties.