My donut pan and I have been through a lot of ups and downs. I bought it absolutely exploding with ideas and hope of what could be. Pretty soon I was putting batter in that had no business there and eventually, I became exasperated with the baked donuts concept.
But here's what I've learned: not just anything can be baked in the shape of a donut, you have grease the crap out of the pan, and before you even think about frosting or coating it, let those bitches cool.
Sorry I dropped the B-bomb. I just needed to emphasize.
INGREDIENTS
2 cup unbleached all purpose flour
2/3 cup sugar
2 teaspoon baking powder
4 eggs
6 tablespoon butter, melted and cooled for a couple minutes
2 teaspoon vanilla
1/4 cup milk
2 cup powdered sugar
2 tbsp corn starch
DIRECTIONS
Preheat oven to 375 and spray a doughnut pan very well with baking spray.
In a medium bowl, combine all dry ingredients and set aside. In a separate bowl, whisk eggs, milk, and butter until mixture is slightly frothy. Stir the egg and milk mixture into dry ingredients until ingredients are just combined.
You can do this a couple different ways. If you've got a piping bag available, spoon the batter into it and squeeze it into the donut wells. If you're lazy like me, spoon batter into doughnut pan, filling each doughnut almost to the top and smooth it over with the back of the spoon.
Bake for 7-9 minutes until doughnut springs back when it's touched. After 5 minutes, remove the donuts from the pan and let them cool completely on a wire rack. Then toss the donuts in powdered sugar/corn starch mixture until coated completely. Eat them immediately - that's an order.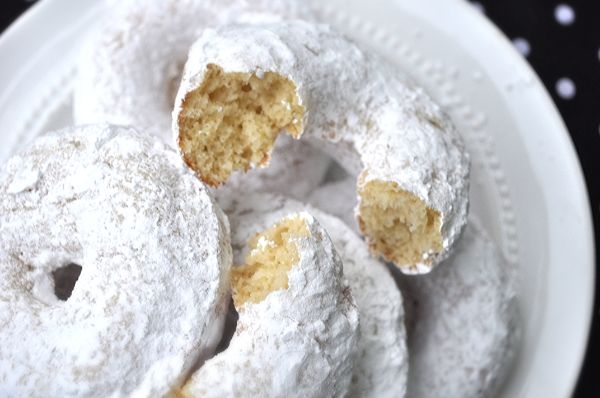 So look, I know that sometimes you make donuts that look weird coming out of a donut pan. But I promise, if you follow this recipe, you'll get snazzy looking donuts. Money back guarantee.
Go eat donuts.