I know.  I told you I was only going to post two pumpkin recipes.  I know that you had accepted that fact and moved on.  I know that I'm just drudging up old emotions.  But listen.  This cake is amazing, you'll be glad I'm doing this. Trust me.
Pumpkin and chocolate: at first this sounded gross to me.  But the pumpkin ends up giving the cake a fudgy quality and makes it just a little bit spicy.  It's pretty magical.  It also keeps the cake good for much longer, giving you more time to finish it off.  But I don't think you'll need it.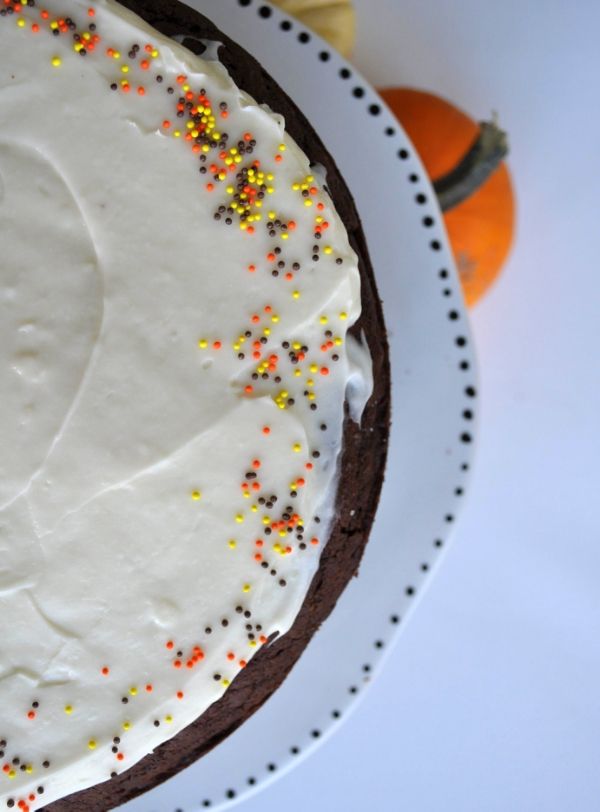 for the cake
1 1/2 cup flour
2/3 cup cocoa
2 tsp baking powder
1 tsp baking soda
1/2 tsp salt
1/2 cup buttermilk
1 cup canned pumpkin
2 tsp vanilla extract
3/4 cup butter, softened
1 cup dark brown sugar
1 cup granulated sugar
3 large eggs
1 egg yolk
for the frosting
8 ounces cream cheese, room temperature
8 tablespoons (1 stick) unsalted butter, cut into pieces, room temperature
1 cup confectioners' sugar
1 teaspoon pure vanilla extract
for the cake
Line the bottoms of two 8-inch cake pans with parchment paper and lightly butter.
Sift the flour, cocoa, baking powder, baking soda, and salt together. Stir the buttermilk, pumpkin, and vanilla extract together in a small bowl. Beat the butter and sugars together using an electric mixer on medium speed until light and fluffy. Beat in the eggs and yolk, one at a time. Reduce mixer speed to low and alternately beat in the flour and buttermilk mixtures in thirds.
Pour the batter into the prepared pans. Bake until a tester, inserted in the center, comes out clean--about 35 minutes. Cool layers completely before icing.
for the frosting
beat the cream cheese by hand or in an electric mixer until soft, then add the other ingredients and beat until completely smooth.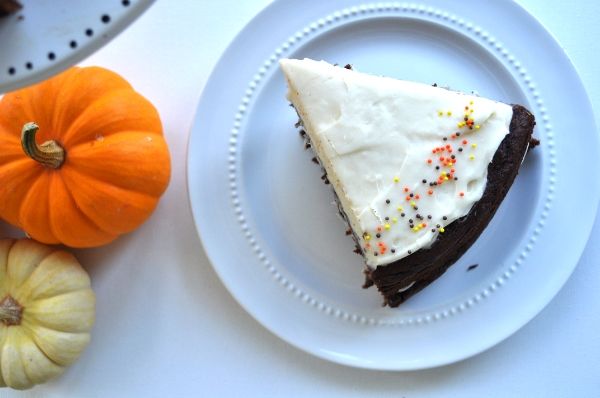 Make this for Thanksgiving dinner.  Or tonight for dinner.  That's what I'll be doing.