In the last two days I have resisted biting my nails, done 7 loads of laundry, watched the first two Twilight movies, and messed up the same cake recipe twice. I don't deal with failure well. I almost lost it and threw flour everywhere.
Then, as often happens when I'm upset, I had a hankering for a sammich (yes, you read that right. sammich.) After wandering around the grocery store for a while, I figured out I wanted jalapeños and cheese. Hence: the jalapeño popper sammich.
I roasted some garlic and smashed it into cream cheese, cut up some of the leftover Castello cheese in my fridge, and sautéed some jalapeños. Then I toasted some thick cut bread in the oven and smushed it all together.
I don't even care about that cake anymore.
INGREDIENTS
1 head garlic
olive oil
4 oz cream cheese
Any cheese with a creamy and crumbly consistency and a parmesan-like taste (I used Castello)
1 tbsp butter for the bread
2 thick slices of bread
DIRECTIONS
Slice the top off of your head of garlic, smother it in olive oil and wrap it in a piece of tin foil. Bake at 425 for 35-40 minutes.
Slice up your jalapeños and throw into a pan with some olive oil and cook on medium until soft. While they're cooking, slice and butter your bread. Once the garlic is soft, turn your oven on broil and toast your bread in it for about 10 minutes until golden brown.
Once it's cool enough, extract the cloves of garlic and smash together with 4 ounces of cream cheese with a fork. I like leaving big pieces of garlic, but if you want a smoother consistency, use a food processor.
Once everything is cooked and ready to go, pile it on the bread. Give it to someone you love. Quite possibly yourself.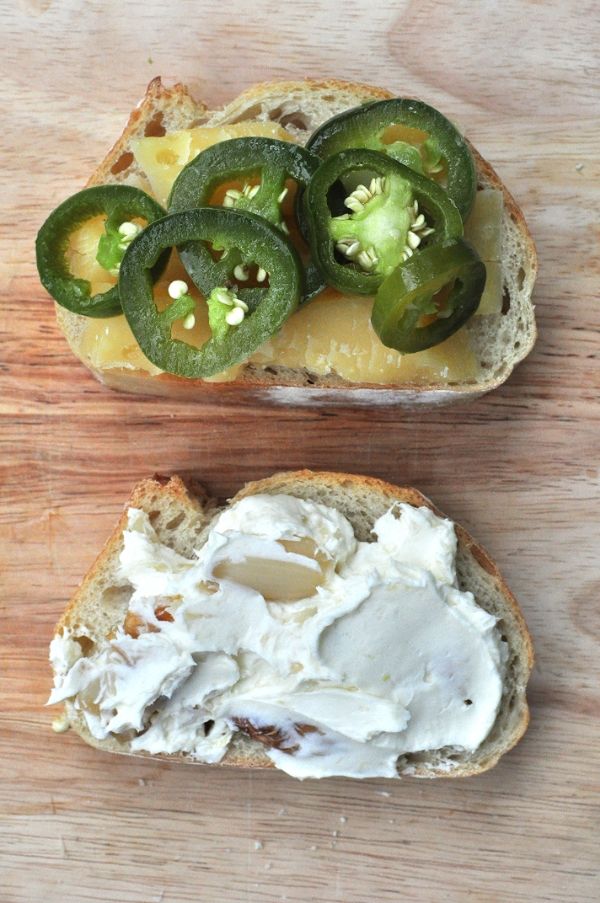 Any awesome, creative sandwich ideas to share?