Sometimes, guys, you just need to grab random chocolate and stick it in a cookies.  That's what I did.  I grabbed white, dark, and milk chocolate chips and stuck them in my favorite sugar cookie dough.  It was quick, dirty, and oh so chocolaty.  Then, as if three different types of chocolate chips wasn't enough, I melted some and drizzled it on top.
I was going to put butterscotch chips in there but then I remembered, butterscotch is disgusting.  Ditto on nuts.  That's Pancakes: unapologetic.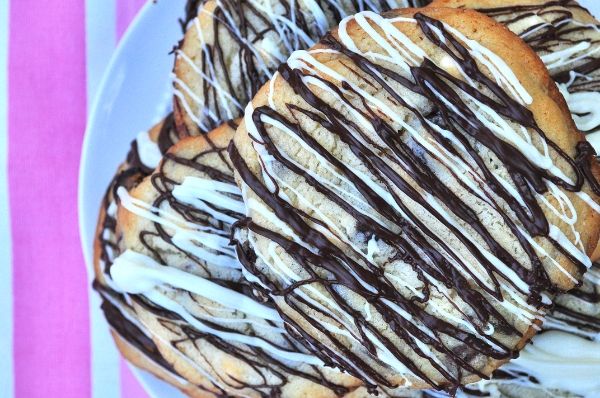 INGREDIENTS
makes two dozen large cookies
2 3/4 cups all-purpose flour
1 teaspoon baking soda
1/2 teaspoon baking powder
1 1/2 cups white sugar
1 egg
1 teaspoon vanilla extract
1 cup butter, softened
3/4 bag each of milk, dark, and white chocolate chips
DIRECTIONS
Preheat oven to 375 degrees F.  In a small bowl, stir together flour, baking soda, and baking powder. Set aside.
In a large bowl, cream together the butter and sugar until smooth. Beat in egg and vanilla. Gradually blend in the dry ingredients including chips. Roll 1.5-2 inch balls of dough, and place onto ungreased cookie sheets.
Bake 8 to 10 minutes in the preheated oven, or brown around the edges. Let them stand on the cookie sheets for two minutes before removing to cool on wire racks.  Trust me, I broke a few because of my impatience!
I know I always tell you to go make stuff.  This is a no exception.  Go make these.