Most of the time I like to write something quippy and entertaining before just throwing a recipe at you.  But right now, my mind is completely full of house hunting and my new job.  It was a treat just to be able to spend the afternoon baking.  Long story short: Oofda.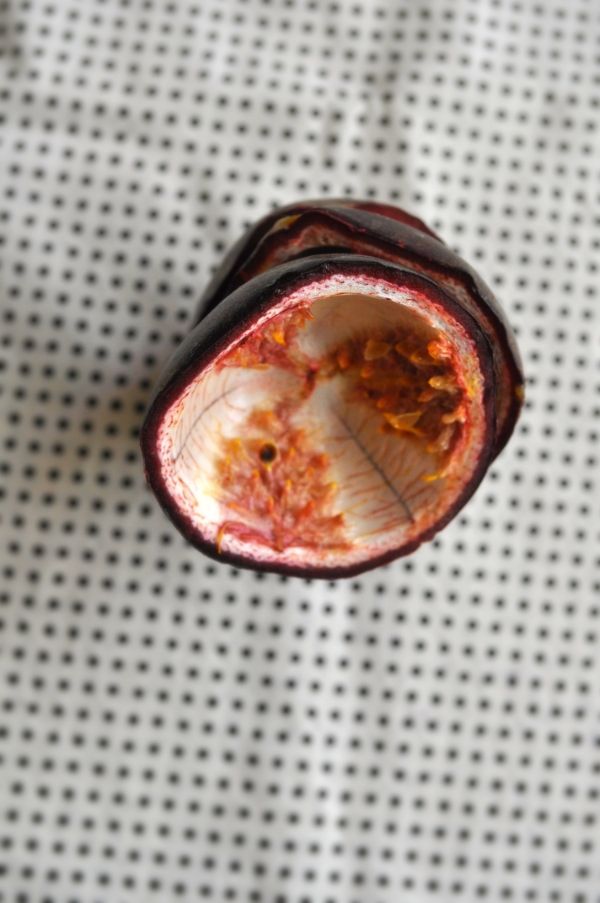 I've never cracked open a passion fruit before, and I didn't know what to expect.  These things...they look alien.  Once I blended them up, though, they became the perfect addition to classic vanilla cupcakes.
INGREDIENTS
1 cup granulated sugar
1 3/4 cups all purpose flour
1 1/2 teaspoons baking powder
1/2 teaspoon baking soda
1/2 teaspoon salt
1/4 cup unsalted butter, room temperature
2 large eggs, room temperature
1/4 cup canola oil or vegetable oil
1 tablespoon pure vanilla extract
2/3 cup whole milk
Guts of at least 4 (6 max) passion fruits
for the frosting
1 1/2 cup confectioners' sugar (add more until it reaches your preferred consistency)
1/2 cup unsalted butter, room temperature
1 tablespoon milk
1 vanilla bean (split open and scrape out the seeds with a knife)
DIRECTIONS
makes two 9" rounds or 24 cupcakes
In a bowl, using a whisk, combine all of your dry ingredients.
In a blender (my Kitchenaid is still in storage from the move and a run-of-the-mill blender has been seeing me through these hard times) blend together sugar and eggs until light and fluffy. Add the rest of your wet ingredients and mix completely. Add your passion fruit guts and blend until combined well.
Add the premixed dry ingredients in three batches until the batter is mixed thoroughly. Scrape down the sides of the pitcher each time.
Pour your batter into a lined cupcake pan, or two greased and floured 9" cake pans. If you're making cupcakes, only fill the liners a little over half full. Bake at 350 for 14 minutes for cupcakes 16-20 for cake.
for the frosting
beat together the butter and confectioner's sugar until fluffy
add the remaining ingredients and mix until you like the consistency
spread on your completely cooled cupcakes and stuff them in yo face
I hope you guys are having a spectacular week.  Full of big achievements, positive energy, and cupcakes.