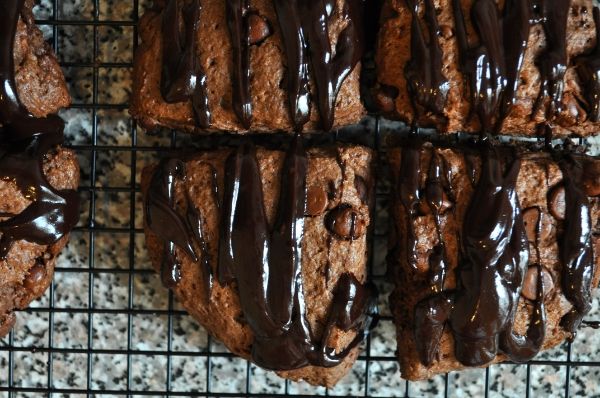 I hashtag things in every day conversation.  If I hashtagged this (which I totally did) I would say "Hashtag Chocolate."  You guys.  This is a whole lot of chocolate.
Chocolates in a heart shaped box, often with toothpaste flavored filling, is a thing of the past.  Your man should hand you a big ol' plate of these.  You're worth it, you gotta demand the best.
INGREDIENTS
2 2/3 cups all-purpose flour
1/3 cup dutch-process cocoa
3/4 cup granulated sugar
1 tablespoon baking powder
1/2 teaspoon baking soda
3/4 teaspoon salt
1/2 cup COLD butter
1 teaspoon vanilla extract
1 large egg
3/4 cup milk
Preheat the oven to 375.
In one bowl, blend the flour, cocoa, sugar, baking powder, baking soda, and salt together in a bowl with a whisk. Cut cold butter into small cubes and, in the bowl with the dry ingredients, break apart into even smaller pieces with your fingers or a fork. If you've got a pastry blender then ooh la la, look at you. Work the butter into the dry ingredients until it is most of the pieces of butter are the size of peas. (I also used my hands to do this). Make sure to do this quickly so the butter doesn't warm up too much.  If you take too long because the baby is crying, or the dog peed on the leg of the sofa or the skies are opening up, you can just stick the mixture in the freezer for about 10 minutes.
In a separate bowl, whisk together the vanilla, egg, and milk. Add this and your chocolate chips and stir until just combined.
Form the dough into two balls and, with wet hands to keep them from sticking to the dough, flatten the balls into to approximately 6" wide and 3/4" thick discs on a greased or parchment lined baking sheet.
Bake at 375 for 8-15 minutes or until it feels slightly firm when you push into the top of a scone.  Let them cool on a wire rack and eat while still slightly warm.  All chocolate is better warm.
For the glaze, I followed Martha on this one.  Get her chocolate glaze recipe
here
.
I wish I hadn't eaten all of these.  Not because I feel like a fatty now but because they're all gone.  I'm telling you, I need a handsome firefighter to hand me one plate more - FDNY, I'm talking to you!
I hope you all have a very special little Valentine's, if not with your sweetie, then with a pint of ice cream and these bad boys.