I had a long conversation with someone last night about being a baker. The long and the short of it is that baking is 20% following instructions, 20% mastering a few techniques, and 60% bothering to do it. Until I was about 22, I swore up and down that I couldn't bake anything edible. Fact is, I had just never really tried.
I want to bake every day until the day I die. Will I ever do it for a living? Gosh, I don't know - that would be dreamy. I'm just grateful I get to do it at all. And speaking of grateful, I am especially so for this recipe I'm going to share with you today.
I was in a hipster's basement a few weeks ago and she made this. She served it plainly with the option to spread some fig jam on it and in this case (and most, in my opinion) simplicity made the cake better. I chose to serve this cake with some fresh fruit and a little confectioner's sugar on top. I made this cake yesterday too and put raspberries on top, but today I went with blackberries. Both were delicious so do what feels right to you!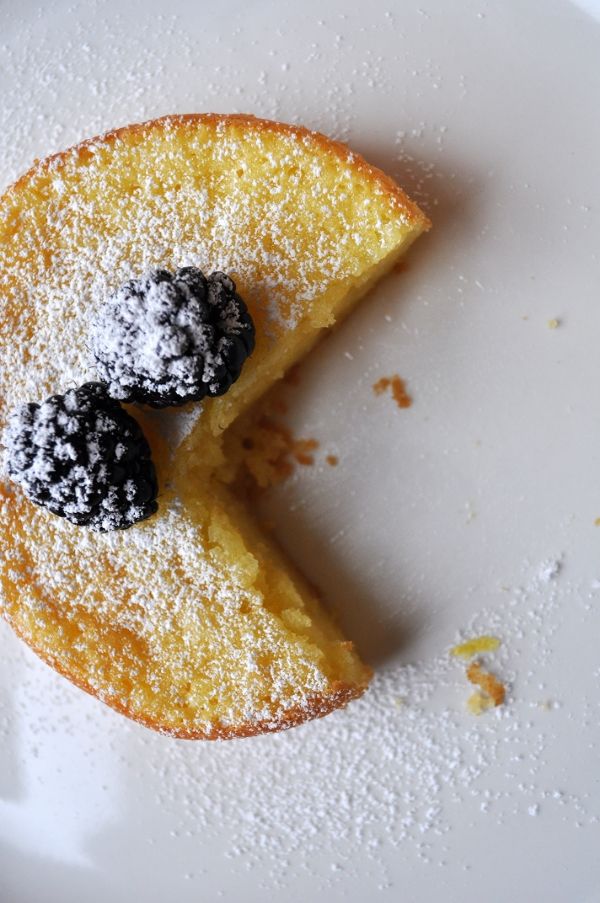 (look. it looks like pacman. om nom nom.)
3/4 cup softened butter
3/4 cup sugar
zest from 3 large lemons
1 teaspoon lemon juice
3 large eggs, separated
1 cup Ricotta cheese (I used part skim)
1/2 cup plus 2 tablespoons for dusting all-purpose flour
2 teaspoons baking powder
a dash of salt
Preheat oven to 325 degrees F.
Lightly grease and flour a 7 or 8 inch spring-form pan or a cupcake pan if you want to make minis!
Beat the butter and sugar with a hand mixer until light and fluffy.
Add the lemon zest, extract, egg yolks and ricotta cheese and beat until smooth.
Mix together the flour, baking powder and salt, and beat into the butter mixture just until combined.
Wash your beaters well, and then beat the egg whites in a separate bowl until they hold stiff peaks.
Gently fold the egg whites into the batter then spoon the batter into your prepared tin.
Bake for about 45 minutes, or until the edges start to get this shade of golden brown.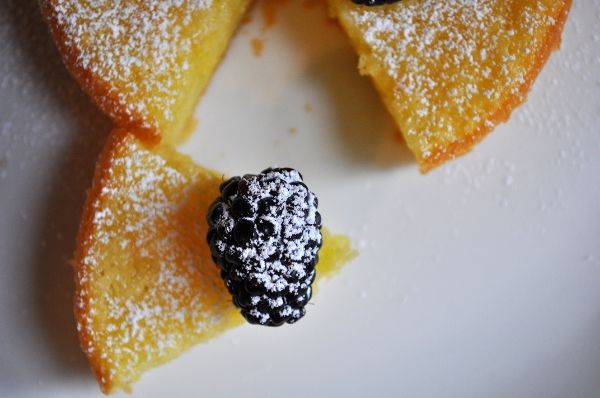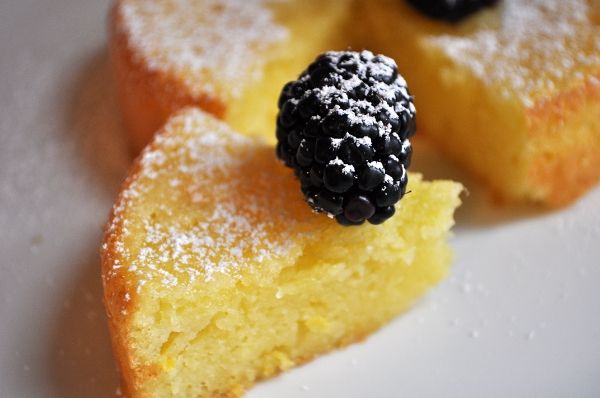 That's it. Super easy. Now go out and do what you want. I believe in you.