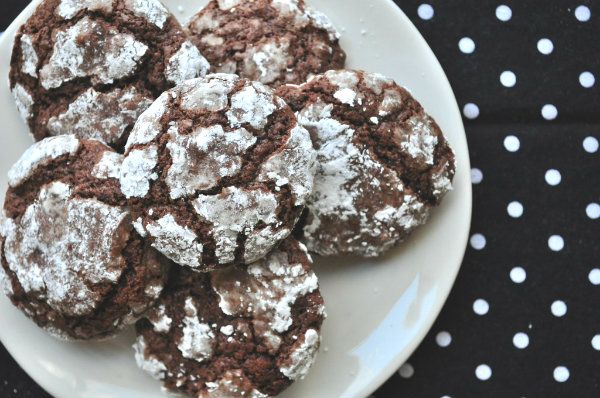 I've been baking up a christmas cookie storm over here.  Baking cookies: fun.  Baking cookies for all your friends, finding boxes for them, hauling all of them to the post office: horrific.  If someone sends you baked goods in the mail you should hug them and draw them a hot bath.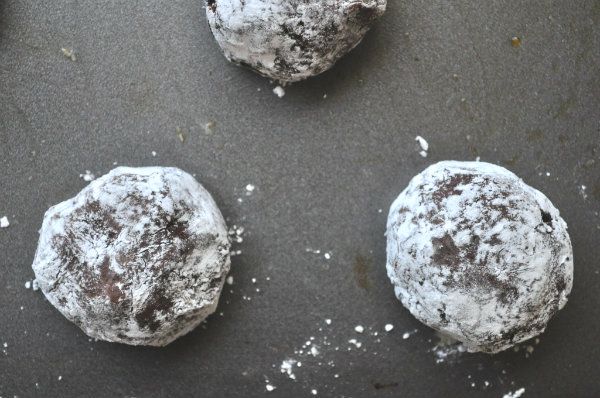 I've been having a lot of luck with chocolate lately, so I'm keeping the ball rolling with these bad boys.  They are like cookies and brownies at the same time.  Crownies. Bookies. Oh boy.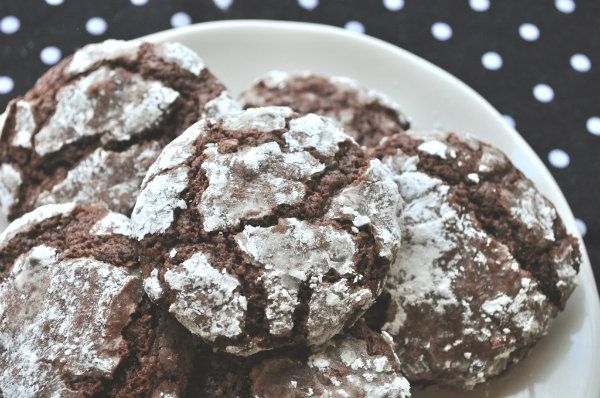 INGREDIENTS
1 1/2 cups unbleached all-purpose flour
1 1/2 cups sugar
1 1/2 tsp baking powder
3/4 tsp salt
6 tbsp unsalted butter, melted and cooled to room temperature
3/4 cup cocoa powder
3 large eggs, at room temperature
1 tsp vanilla extract
1 cup semisweet chocolate chips (I used miniature chips)
3/4 cup confectioners' sugar, for coating cookies
DIRECTIONS
In a large bowl, combine flour, sugar, baking powder, and salt with a whisk. Set aside.
Scrape the melted butter into a smaller bowl with a spatula and add the cocoa powder. Stir by hand until combined and no lumps remain. Mix vanilla extract with eggs, then whisk into cocoa butter mixture.
Add wet mixture to dry flour mixture and mix thoroughly by hand with a rubber spatula. It may seem as if you need more liquid, but do not add any. Just keep folding and pressing until the mixture comes together. It will eventually reach the consistency of stiff brownie batter. Fold in chocolate chips. Refrigerate dough for 30 minutes to firm up. (This part is important if you don't want a gigantic mess)
Preheat oven to 350 degrees F. Line two baking sheets with silpat baking liners or parchment paper. (If you do not line the baking sheets, be sure to lightly grease them.)
Pour confectioners' powdered sugar into a small bowl. Scoop dough by teaspoons, roll into balls with your slightly wet palms (I just ran some water from the sink onto my hands to keep dough from sticking), and drop into powdered sugar, rolling around to cover completely. Place on prepared baking sheets 1 1/2 inches apart.
Bake cookies for 12 to 15 minutes. Let them cool 10 minutes on the cookie sheets before using a spatula to remove to racks and cool completely.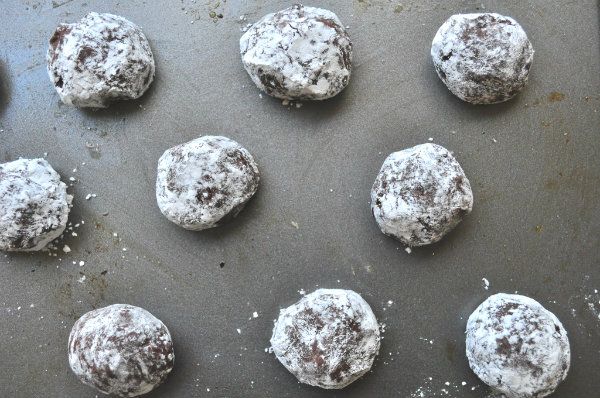 These cookies are the best of the best.  Soft on the inside, super easy to make, and really pretty, too.  I double dog dare you to make them and bring them to the next holiday party you go to.