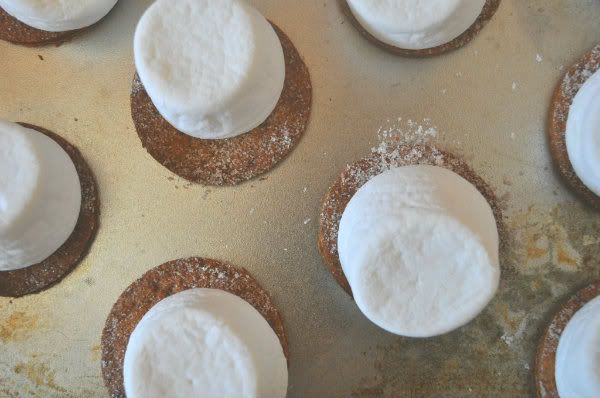 Did you guys eat Mallomars when you were little? My dad would buy boxes of them and hide them from my brother and I. Pretty smart if you ask me.
But now I'm all grown up and I can have Mallomars whenever I want. So there.
So I have a recipe here that is pretty similar to Mallomars, but it has homemade graham cracker cookie at the bottom. Want this recipe? Well, you can't have it; I'm going to hide it in the tallest cupboard so you can't reach it.
Just kidding. I love you, why would I do that?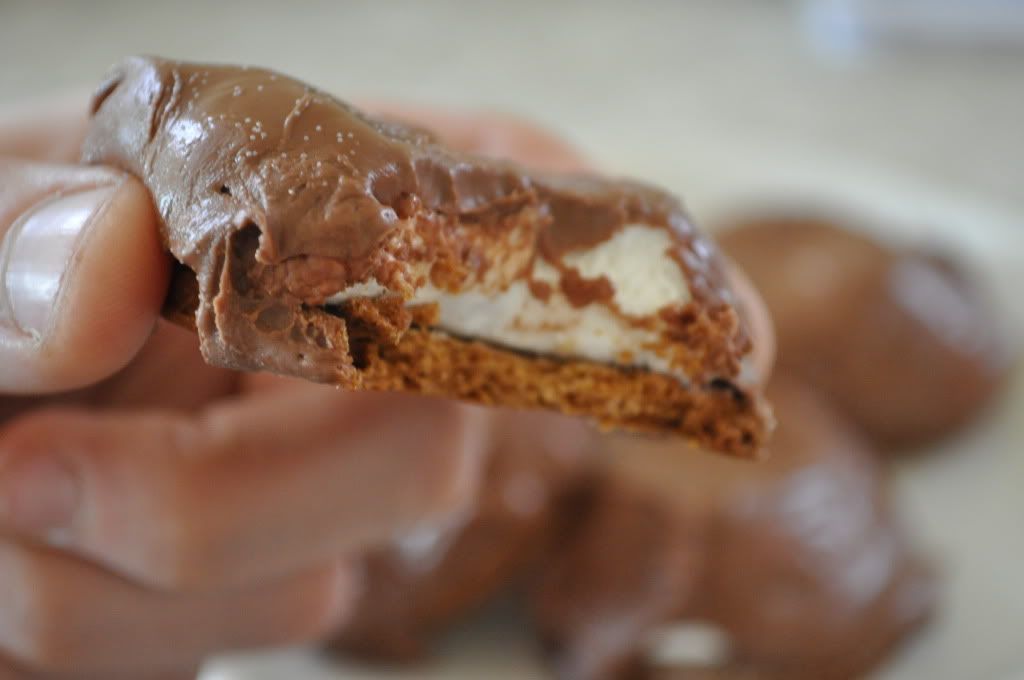 for the graham cracker cookies
2 ½ cups plus 2 tablespoons all-purpose flour
1 cup dark brown sugar, lightly packed
7 tablespoons unsalted butter, cut into 1-inch cubes and frozen
⅓ cup mild-flavored honey
2 tablespoons pure vanilla extract
cinnamon and sugar for coating
for the rest
1 bag of large marshmallows
2 bags of milk chocolate chips, good quality
In the bowl of a food processor fitted with the steel blade or in a bowl with an electric mixer, combine the flour, brown sugar, baking soda, and salt. Pulse or mix on low to incorporate. Add the butter and pulse on and off on and off, or mix on low, until the mixture is the consistency of a coarse meal. (Make sure not to over mix)

In a small bowl, whisk together the honey, milk, and vanilla extract. Add to the flour mixture and pulse on and off a few times or mix on low until the dough barely comes together. It will be very soft and sticky.

Turn the dough out onto a lightly floured work surface and pat the dough into a rectangle about 1 inch thick. Wrap in plastic and chill until firm, about 2 hours or overnight in refrigerator, or if you're in a hurry an hour in the freezer.

In a small bowl, combine the sugar and cinnamon, and set aside for topping.

Divide the dough in half and return one half to the refrigerator. The dough will be sticky, so flour as necessary. Cut into circular cookie shapes. Place the cookies on one or two parchment-lined baking sheets and sprinkle with the topping. Chill until firm, about 30 to 45 minutes. Repeat with the second batch of dough.

Preheat the oven to 350 degrees and bake for 25 minutes, until browned and slightly firm to the tough, rotating the sheets halfway through to ensure even baking.
Turn off the oven and place one large marshmallow on each cookie and leave in the oven for ten more minutes. Marshmallows should expand. Take cookies out and place them on a cooling rack with baking sheet below to catch the excess chocolate.
Melt your chocolate in the microwave, or in a double boilers and pour over each cookie. Allow chocolate to harden in the refrigerator for a few minutes before eating.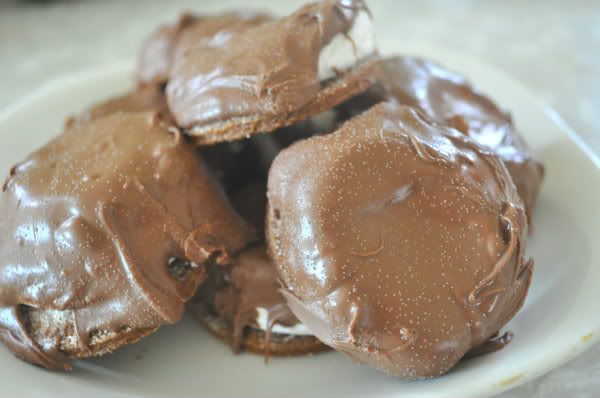 Then eat them. Eat them all. Before my Dad finds them.