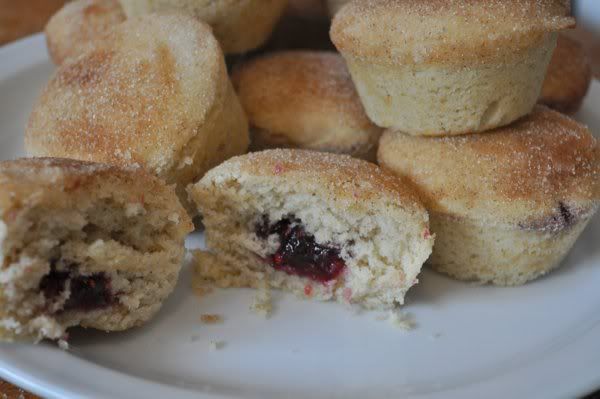 I had a really honest talk with myself today.
Yes, with myself.  I talk to myself.  Pretty consistently.
Anyway, I came to the conclusion that I am just not meant to make donuts.  It just isn't in the cards for me.
But I'm still obsessed with them.  So being the problem solver that I am, I decided to make one of my favorites into something I know I can make - a muffin.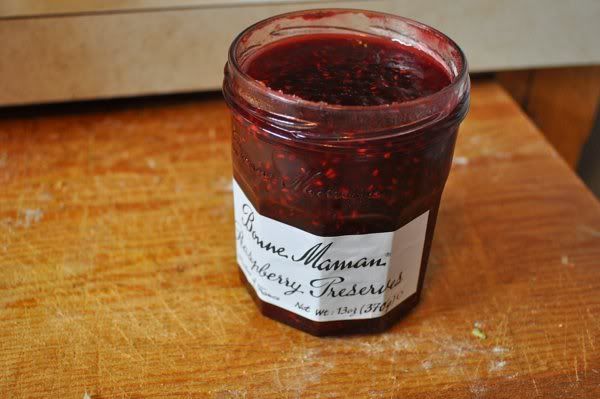 This is probably one of the better ideas I've ever had.  Plus, because I bought this big jar of my favorite jam, I'll be putting it on everything until every last bit is gone.

That'll make for a wonderful 3 to 4 days.

Anyway, onto this incredibly easy and delicious recipe.
for the muffin
1 ¾ cups flour
1 ½ teaspoons baking powder
½ teaspoon salt
½ teaspoon ground nutmeg
¼ teaspoon ground cinnamon
¾ cup sugar
⅓ cup vegetable oil
1 egg , lightly beaten
¾ cup low-fat milk
jam
for the topping
¼ cup butter , melted
⅓ cup sugar
1 teaspoon ground cinnamon
In a large bowl, combine flour, baking powder, salt, nutmeg and cinnamon. In a small bowl, combine sugar, oil, egg and milk; stir into dry ingredients just until moistened.
Fill greased or paper-lined muffin cups half full; place 1 teaspoon jam on top. Cover jam with enough batter to fill muffin cups three-fourths full. (It doesn't have to look perfect.  The muffin will expand while it bakes and cover whatever spots you didn't get.)
Bake at 350F for 20-25 minutes or until a toothpick comes out clean.
Place melted butter in a small bowl; combine sugar and cinnamon in another bowl. Immediately after removing muffins from the oven, dip tops in butter, then in cinnamon sugar.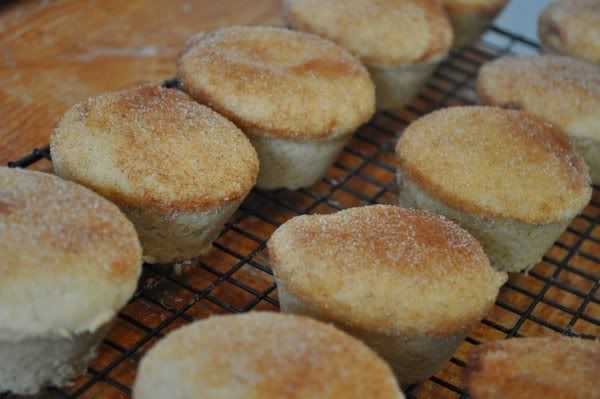 Eat these outside on a Saturday while you sip dark coffee and read the paper.  That's what I'll be doing.