This bread is more than just bread.  Just go with me on this one.
To say I've been feeling down in the dumps lately is an understatement.  When I was deciding what recipe I wanted to share with you, I knew it had to be something with comforting smells and it had to be a carb.  Sometimes, a girl just needs some carbs.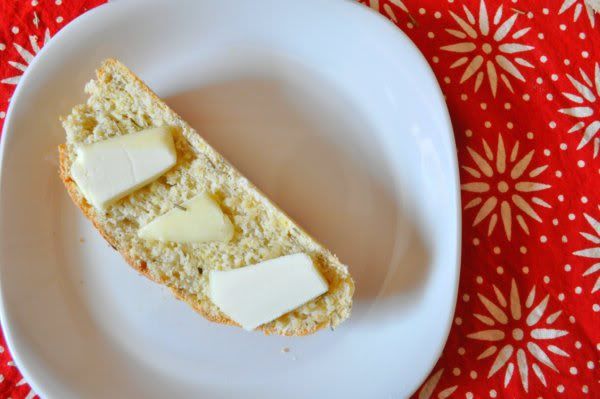 You're going to love this bread.  It is soft and flavorful and goes great with garlic butter.  Or regular butter.  Really, any butter.
Mmmmm, butter.
Anyway, let's do this.
1 tablespoon white sugar 1 cup warm water
1 (.25 ounce) package active dry yeast
1 teaspoon salt 2 tablespoons butter, softened
2 tablespoons rosemary
1 teaspoon Italian seasoning
3 cups bread flour
1 tablespoon olive oil
2 tablespoons diced garlic
3 cloves of garlic for top of the bread
2 eggs, beaten (optional)
Dissolve the sugar in warm water in a medium bowl, and mix in the yeast. When yeast is bubbly, mix in salt, butter, 1 tablespoon rosemary, and Italian seasoning. Mix in 2 cups flour. Gradually add remaining flour and one egg to form a workable dough, and knead 10 to 12 minutes.
Coat the inside of a large bowl with olive oil. Place dough in bowl, cover, and allow to rise 1 hour in a warm location. Punch down dough, and divide in half. Line a baking sheet with parchment paper. Lightly grease paper. Shape dough into 2 round loaves, and place on the baking sheet. Sprinkle with remaining rosemary.
Cover, and allow to rise 1 hour, or until doubled in size. Preheat oven to 375 degrees F (190 degrees C). Brush loaves with egg. Bake 15 to 20 minutes in the preheated oven, or until golden brown.
Enjoy, pretties.